As you may know, today is GLSEN's 12th annual Day of Silence. Students from more than 6,800 schools across the nation are expected to take part by taking a vow of silence to raise awareness about anti-LGBT bullying and harassment. One school on which media attention is focused is Mount Si High School in Snoqualmie, Washington. Chris Monsos graduated from Mount Si in 1997. He pens the blog Hunk du Jour and works as a software engineer outside Seattle.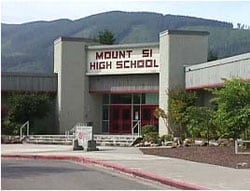 Around the country, lunch rooms will be a bit quieter and hallways a bit less rowdy as students in over 5,000 schools participate in the annual 'Day of Silence'. The event is designed to draw attention to anti-LGBT bullying in schools and promote learning spaces that are respectful and tolerant of all people.
In rural Snoqualmie, Washington, the Mount Si High School Gay-Straight Alliance will be taking part, but activist pastor Ken Hutcherson aims to protest the event by encircling the school with 1,000 praying Christians. Hutcherson appeared at the school in January of this year, causing controversy after he was selected to be a speaker at the Martin Luther King Jr. assembly. During his appearance a teacher booed him, and another teacher asked him about the disconnect between his message of equality and his intolerance of the GLBT community.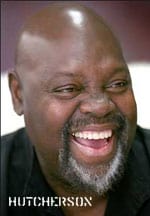 After the encounter Rev. Hutcherson called for the firing of the two teachers who spoke out. The school offered an official apology, and the district said in a statement that "appropriate action has been taken with staff and school administration…" The district added that it does not comment on personnel matters.
Protesters of the 'Day of Silence' placed a half-page ad in the local paper, The Snoqualmie Valley Record;. They call the event too disruptive for the learning environment, when organizers attest that it is designed to be as non-disruptive as possible.
Support for the Mount Si GSA has appeared from what might have been considered an unlikely source — another small church in the Snoqualmie Valley. Tolt Congregational UCC, a church in nearby Carnation, took out a full-page ad in the Record, reading "…we stand in solidarity with these student leaders for their efforts to make our schools safe and welcoming to all."
I spoke to Neil Lequia (below, right), a former student who is returning to Mount Si today to support students and facilitate a news conference. Lequia is the subject of a profile in today's Seattle Times.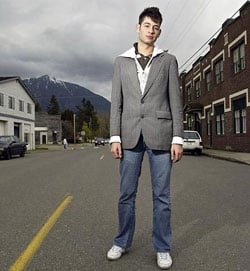 "It's overwhelming to know that within the community we have so much encouragement and opposition," says Lequia, who began working with GLSEN when he was a student at Mount Si, helping create the GSA. "Because Tolt UCC is a Christian church, it shows that not all Christians are bad people, and they can accept everyone for their differences."
Adds Lequia: "Gay rights has become so vocally debated in the valley because its an issue that people feel they don't have to deal with. It has always been swept under the rug because there are 'no gays in the valley.'"
GSA Advisor Eric Goldhammer reports that around 200 students have taken part in the required 'Day of Silence' training meetings. Student participants are pledging to "approach the day with dignity, maturity and respect." When asked about what he is proudest of thus far, he sees students realizing that "they can make an impact on the world, even in little Snoqualmie, Washington — they're getting an idea of what student leadership is all about."
While the protesters stand just outside of school property, what you won't see is a counter-protest. A small group of community supporters will welcome students at the gates and show their support. They intend on being gone before the expected protest crowd even arrives. GLSEN WA (Gay Lesbian and Straight Education Network) will also be holding an off-campus press conference to answer questions about the 'Day of Silence' and talk to the media about the importance of GSAs in schools.
Adds Lequia: "The 'Day of Silence' raises awareness of issues. It shows how people have to conceal their identity on the behalf of other people. This whole event is about anti bullying and harassment and those things happen especially in high schools. We are the people who are going to make a difference."
Related
Ex-student returns to Mount Si to support Day of Silence [seattle times]
(neil lequia image – dean rutz, seattle times)