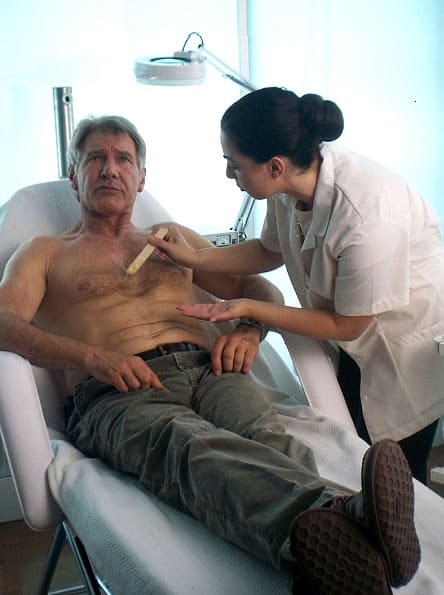 This just may be the first time I've seen a celebrity use depilation to raise awareness about the environment.
Access Hollywood reports: "In an effort to showcase the pain involved in deforestation, Harrison willingly subject himself to the painful process of stripping his chest of all its follicles. Having worked with Conservation International for 15 years, it was Harrison's hope that his trip to the salon might just shock people into thinking 'green.'"
If he's going to go this route, I think a "Boyzilian" would probably offer more shock value. Also, where are the "after" shots? Not that I'm looking forward to seeing Indiana Jones be stripped bare, but let's see it rip.
UPDATE: Here's the video…
I'm still not convinced that this trip to the salon is gonna save any trees but can we all agree Harrison Ford at 65 is still looking mighty fine?
One more shot, AFTER THE JUMP…