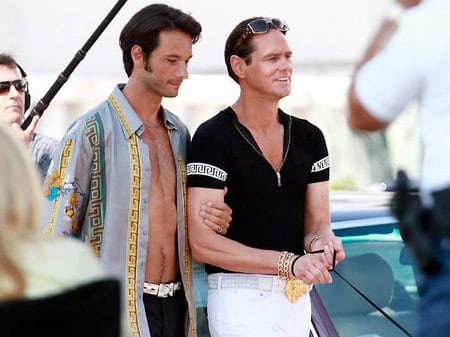 Last week I reported that Jim Carrey, Ewan McGregor, and Rodrigo Santoro had been spotted doing some "research" at Edison Farrow's popular gay Martini Tuesdays at Halo Lounge in Miami Beach.
Here's your first look at Carrey and Santoro flaunting their Versace in the film I Love You Phillip Morris, which just began shooting in Miami.
In the film, an adaptation of the Steve McVicker novel I Love You Philip Morris, Jim Carrey plays Steven Russell, a married father/conman who finds himself in the Texas prison system where he falls in love with his cellmate Phillip Morris. The romance prompted four escape attempts and a lifetime jail sentence for Russell. McGregor plays Morris, and I don't have the details on Santoro's role.
Those Versace fashions really up the cheese factor. Let's hope they don't Chuck & Larry it.