Jay Leno and Ryan Phillippe are still on good terms after the "gayest look" incident. Said Leno: "No, we talked about it before. We're friends. I mean, it's a talk show. That's what you do."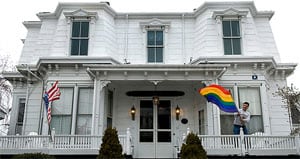 Same-sex weddings, civil unions, commitment ceremonies big business in New England: "Throughout the Northeast, competition has spiked among wedding sites, hotels, resorts and inns as the travel industry has realized that same-sex ceremonies can draw scores of guests, who turn these destinations weddings into weekend stays."

Ashlee Simpson is another straight woman who loves that gay guys love her man.

Red Cross in Thailand changes screening process for gay blood donors: "Gay-rights activists had complained that one question, which was meant to target people more likely to have diseases transmitted by sex and drugs, had effectively blocked all gay men from donating by only asking about same-sex relations. 'We didn't mean to hurt anyone,' said Soisaang Pikulsod, director of the Thai Red Cross National Blood Centre. 'It was just to ensure the highest possible safety of our patients.' The Red Cross will rework the form to include more questions about all types of sexual behaviour, gay or heterosexual, that could increase the risk of diseases such as AIDS, she said."

Kathy Griffin and Adnan Ghalib in most obvious paparazzi punk'd ever.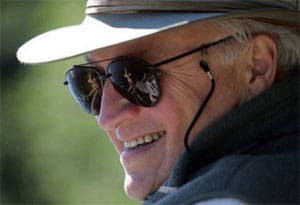 Dick Cheney has either a naked woman or an alien entity in his lenses. Or Lynne Cheney, in which case it would be both.

American Idol loses one of the guys [SPOILER].

Gay-friendly college fairs a budding trend: "Students are coming out at a much younger age. That process isn't beginning in college or after college like we may have seen 10 or 20 years ago. So these high school students who are out come looking for a range of things that show a college will generally have students like them, and a university with an inclusive mission."

Judge tosses Florida lawsuit filed by high school student denied the right to form a gay-straight alliance: "The former student, Yasmin Gonzalez, has graduated, so she's no longer affected by the school's decision to ban the club, U.S. District Judge K. Michael Moore said in a ruling Wednesday. Gonzalez's attorneys with the ACLU tried to maintain her stake in the case by seeking nominal monetary damages, but Moore ruled she isn't entitled to any money because she wasn't claiming violations of due process. 'We were surprised and disappointed by his interpretation,' said Rob Rosenwald, an attorney with the American Civil Liberties Union. Rosenwald plans to ask the judge to reconsider. Attorneys for the school board declined to comment."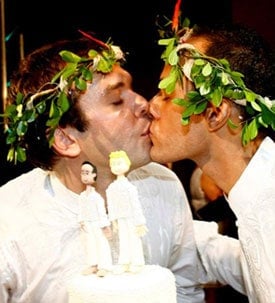 Brazil televises "tacky" gay wedding.

George Michael = God?

East Village Boys offer T-shirt that big shooters wear with pride.

TPM suggests "diva theory" behind Hillary's appeal: "Hillary is the diva, the fabulous woman who is fabulous just because she says so. She's the woman who is abused (by her husband), ridiculed (by the press), hated (by Republican mouth-breathers), yet she's still standing. She's like from some exploitation film where the heroine is beaten and barely raped before pulling a knife out of her sock and slicing the mean guy's balls off. Her supporters have stood by her and fought her battles with her – and sometimes for her – since the 1990s. The emotional connection runs too deep. R-e-s-p-e-c-t, she shakes her finger. Find out what it means to me. And the crowd eats it up." Can any shallower arguments be made?

Michigan's Aquinas College cancels speech by gay rights activist. President: "I'm not trying to keep people from seeing him. I'm trying to prevent the college from sponsoring an event that displays an attack on Catholic teaching values."