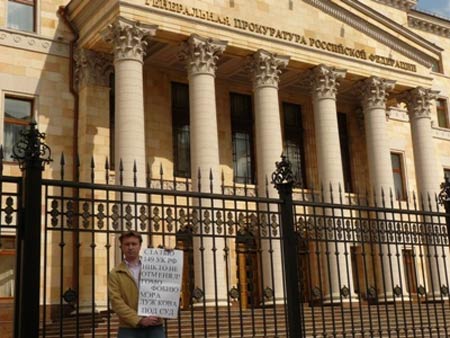 Activist Nikolai Alekseev staged a one-man picket of Moscow's General Prosecutor on Saturday, calling for the prosecution of Moscow Mayor Yuri Luzhkov for the illegal banning of gay pride activities. Authorities prevented a group picket of the office, saying there was a security threat, so Alekseev went it alone.
Gay Russia reports: "There was no interference from the watching police as he displayed a placard reading saying 'No one repealed Article 149 of the Criminal Code. Mayor Luzhkov's homophobia should be prosecuted'. Originally, plans were to have a ten-person picket. But the Prefecture of the Central Area of Moscow banned the event for 'security reasons'. The letter from the Prefecture said that the aim of the planned event 'provokes negative reactions of society and the conduct of the event can lead to group violations of public order which creates threats to the security of the participants'. However, not a single protestor against the picket came to the office of General Prosecution yesterday, which, say gay activists, proves that Moscow authorities did not evaluate the threats properly. 'The General Prosecution office is obliged to conduct an investigation on our request and give us a motivated reply,' Mr. Alekseev said last night. 'If the criminal case is not started, we will appeal the decision to courts.'"
Alexseev and other say they will hold gay pride activities at the end of May, even if they are once again banned by the mayor's office.
PReviously
Moscow Mayor Yuri Luzhkov Warns Against Gay May Day Gatherings [tr]
European Mayors Asked to Attend Moscow Gay Pride [tr]
Moscow Gay Pride Activists Request Compensation for Treatment [tr]