Anti-gay evangelical preacher stabbed to death in Perth, Australia.

Photographers, artists bitter over Polaroid's demise: "'Now what the hell am I supposed to do?' asks John Waters, who's shot a Polaroid of each person who's come into his apartment since 1992—friends, interviewers, deliverymen, everyone. 'Digital isn't instant gratification, and those cameras don't make that sexy sound.'"

Self-described 'YouTube Superstar' Tricia Walsh-Smith may join The Real Housewives of New York City.

Is Jake Gyllenhaal getting Nailed?

Till death: McGreevey divorce trial begins Tuesday. "Legal analysts expect New Jersey's former first couple will approach new lows, even for divorce court. 'I'm not going to tell you this is going to be the worst case ever in the history of New Jersey divorces,' said Charles Abut, a matrimonial lawyer who operates the New Jersey Family Law blog. 'But I think if you asked longtime matrimonial lawyers, 'Give me the your top 10 worst,' this one is going to appear on everyone's list.' The proceedings, which are expected to last up to six weeks in Elizabeth's Union County Courthouse, have been divided into three sections. Superior Court Judge Karen Cassidy has said she will rule separately on each part: Custody of the couple's 6-year-old daughter, Jacqueline; the amount of child support and alimony McGreevey must pay Matos McGreevey; and, finally, Matos McGreevey's claim McGreevey defrauded her, tricking her into a marriage of political convenience even though he knew he was gay."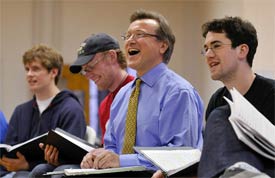 In March I posted about the appointment of Yale music professor and singer Richard Lalli to Yale residential college master, one of the school's highest recognitions. Now the Hartford Courant has profiled Lalli.

Frank Rich wonders why the media is ignoring John Hagee…

Indiewire talks to gay filmmaker Arthur Dong: "As a gay Asian American filmmaker I'd be naive to think that anti-gay bigotry and racism has not affected the opportunities or lack thereof in terms of my work. But the way I confront it is to first acknowledge whatever factors I think might be there, and then forge ahead anyway with that knowledge. We all have thrust upon us unwanted external forces that we have no control over, whoever we are, and if we allow them to be barriers (excuses?) to our goals, then we may as well give it up because perseverance, passion, and stamina is a must for independent filmmakers."

Inside Banksy's CANS Exhibit.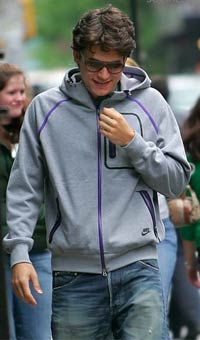 John Mayer asks for hair Haikus.

T.R. Knight and Mark Cornelsen already planning for children. Knight: "I wouldn't rule [adoption] out at all. I think it would be adopting versus any other route. But yeah. I mean, there are a lot of kids who need homes."

FOX News radio host John Gibson mocks MSNBC's Rachel Maddow, lesbians.

As the World Turns' Van Hansis reportedly dating fellow actor Tyler Hanes.

Australian Capitol Territory forced to back down on civil partnerships: "The ACT decision comes as the deeply religious Mr Rudd faces growing attack from Christian groups over his Government's decision to remove discrimination against gays from all other federal laws. Mr Corbell yesterday accused the Rudd Government of breaking a commitment to the states and territories to allow them to legislate as they saw fit. The legislation, which was quashed by the Howard government in 2006, would have allowed gay couples to have their relationships recognised in a legally binding ceremony."

Gay powerlifter Chris Morgan reaches World Championships.

Israeli court denies restraining order against gay man's former partner because nation's family and domestic violence laws do not apply to gay partnerships: "The complainant told the court that the former lover, a younger man who had lived in his Ramat Gan home with him for two years, was abusing him psychologically. He argued that as common-law partner he was entitled to the protection of the family court."