NPR runs heartbreaking piece on two boys who identify as girls: "It's really hard for him. He'll disappear and close a door, and we'll find him playing with dolls and Polly Pockets and … the stuff that he's drawn to…He really struggles with the color pink. He really struggles with the color pink."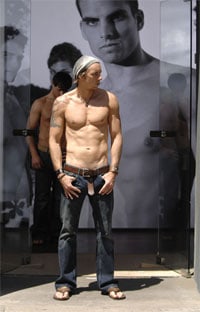 Dax Shepard appears to be acting out the role of Abercrombie door dude in the new film When in Rome.

Neil Patrick Harris's Barney shows off his new trophy date, Britney Spears. Watch it.

Jay Bakker to spend Mother's Day in honor of the late Tammy Faye pressuring megachurch pastor Joel Osteen of Lakewood Church to sit down and talk to LGBT activist group Soulforce: "I want to celebrate my mother's life, and help spread the message she lived and preached. We need to stop thinking of ourselves as 'us' and 'them.' We hope the families of Lakewood Church will open their hearts and minds to us and sit down and have a conversation and share a meal. … Let's put our differences aside and share the love and hope of Christ."

Details on the first dates of Madonna's "Sticky and Sweet" world tour.

Arizona Christian group Alliance Defense Fund has hand in New York same-sex marriage cases.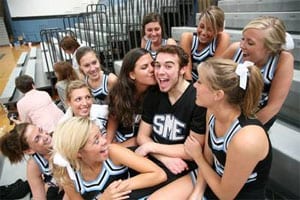 Shawnee Mission East High School loves its gay Homecoming King.

Investigators say photographers won't be charged for photos of teenage water polo players that turned up on gay porn websites: "The Orange County district attorney's office says a four-month investigation determined Scott Cornelius and Allen Rockwell didn't commit any crimes. Cornelius, a University of California, Irvine, police employee currently on paid leave, is still being investigated by the university to determine if he violated college policies. Photographs of youths as young as 14 taken by Cornelius and Rockwell appeared on homosexual pornographic Web sites. But district attorney's office spokeswoman Farrah Emami says 'legally there were no criminal charges we could file.'"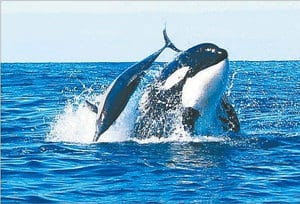 Killer whales photographed hunting dolphins for the first time ever.

Matt Foreman's new perspective.

Your money's worth: Mario Lopez embroiled in Broadway bicep controversy.

Two card stud.

Alabama legislature passes two pro-gay bills: "In an email from State Rep. Patricia Todd, she announced that the Alabama House of Representatives passed the Hate Crimes Bill sponsored by Rep. Alvin Holmes of Montgomery by a vote of 46 to 44, mostly along party lines. While the fate of the bill is unsure as it moves to the Senate, this is huge progress, as the legislation was defeated last year. Also passed (unanimously) was an anti-bullying bill sponsored by Rep. Betty Carol Graham of Alexander City and Sen. Parker Griffith of Huntsville. This is also going to to the Senate."

Truce Off: McGreevey's fail to reach a settlement in their divorce trial.

Don't sit on the benches in New York subway stations unless you want bedbugs.