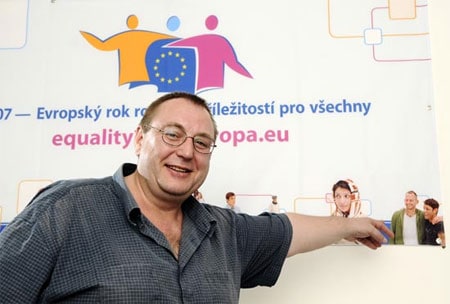 On April 19, gay rights activist Jiří Hromada was nominated by the Czech Republic's Green Party as their candidate for the Senate, a nomination which has already sparked plenty of controversy, according to the Prague Post:

"Following reports of his nomination, news servers such as Novinky and Aktuálně.cz had to shut down online discussions because they were full of homophobic and vulgar comments. The right-wing extremist National Party immediately issued a press statement branding Hromada a 'homosexual deviant.' Despite years of hard work by many gay and lesbian activists, it seemed from such reactions that homophobic feelings are still a part of the national culture, and Hromada's candidacy in the upcoming election could serve as a test of the public's tolerance and open-mindedness."
Hromada ended his "career" as a gay rights activist, according to the paper, in 2006, when the nation's Gay Initiative rights group felt that it had completed all its goals (imagine that!).
Says Hromada: "Our goal from the start in 1990 was not to be needed. We had achieved what we set out to do and now it was time for the younger generation to take over and fight for their own needs…One of the reasons I accepted the nomination was to prove to others that sexual orientation is not important and that people should judge others by their capabilities."
Thus, his activism continues. And his nomination has prompted the usual backward statements about homosexuality and bestiality, pedophilia, etc.
Says Hromada: "Uninformed stupidity cannot be weeded out. There is no rise in homophobic feelings. That illusion is caused by the tabloidization of the press, which gives unwarranted coverage to extremists. [As well, latent homosexuals] are the most aggressive toward our community, because they envy our freedom."
Elections take place in the fall.
First gay candidate runs for Senate [prague post]