House owned by gay escort to socialites James Hunt Barker burns in Palm Beach, Florida.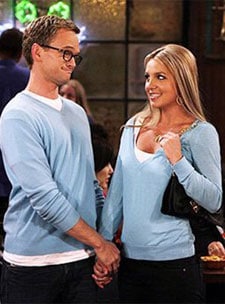 Britney back as Neil Patrick Harris' trophy gal on How I Met Your Mother.

The Metropolitan Museum of Art's annual Costume Institute gala was themed Superheroes: Fashion and Fantasy, but I didn't see many capes or codpieces.

Matthew McConaughey to play Captain America?

In anticipation of Brothers and Sisters' big gay wedding this weekend, GLAAD has put together a handy reference guide to weddings of same-sex couples on broadcast networks.

Publishers Weekly on the state of gay book publishing: "In my view, it is clear that today there is less and less visible publishing of gay and lesbian books. Carroll & Graf, Alyson and Harrington Park Press—in recent years the most energetic publishers of gay/lesbian fiction and nonfiction—have all either failed, drastically reduced their list of GLBT titles, or have been undergoing serial management/ownership changes. As for what most folks would consider the mainstream publishing houses, they are publishing far less of what could credibly be labeled 'gay or lesbian books' than they were 10 years ago. But what I find more distressing is that even those books that they do publish are packaged and promoted in such a way as to downplay or ignore the gay or lesbian aspect of the book."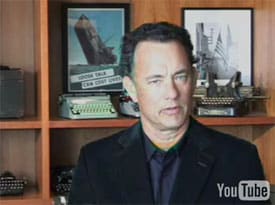 "Official celebrity" Tom Hanks releases video endorsement of Barack Obama.

Beloved Provincetown local "Dixie" dies in accident at home.

McCain wooing conservatives with promises on judges: "McCain promised to appoint judges who, in the mold of Roberts and Supreme Court Justice Samuel Alito, are likely to limit the reach of the Roe v. Wade decision that legalized abortion. 'They would serve as the model for my own nominees if that responsibility falls to me,' McCain said in his prepared speech."

McCain aides attribute Hagee endorsement to "poor vetting": "McCain's aides attribute the Hagee controversy to poor vetting. But even some Republicans (not affiliated with the campaign) privately wonder how the pastor's extreme views slipped through without notice. McCain personally wooed Hagee for more than a year." Frank Rich: "Any 12-year-old with a laptop could have vetted this preacher in 30 seconds, tops."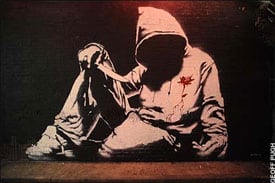 Is Banksy the Michelangelo of graffiti?

If Brad Pitt and U2's The Edge were a gay couple with a family, this is what it might look like.

Filipino Cardinal bans gay Santacruzans: "Parishes that allow cross-dressing homosexuals to play female saints in religious festivals are insulting the Virgin Mary, the nation's top Catholic cleric said Monday. 'We should keep sacred what is sacred,' Manila Archbishop Gaudencio Cardinal Rosales said as he admonished parishes for allowing male homosexuals to play Saint Helena and other female roles traditionally given to local beauty queens. But leaders of the gay community maintained that "Marian devotees" among them deserved a place in the Maytime tradition."

Ian Strachan to appeal conviction for gay blackmail of British Royal.