That first-ever Moldovan Gay Pride parade I posted about earlier has been banned by the mayor of the nation's capital Chisinau.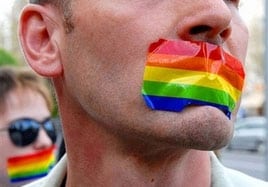 Organizers sent out a notice earlier today, part of which read: "It is already sixth time that a peaceful LGBT demonstration is banned in Moldova, despite pressure and criticism of the Council of Europe, European Union and the Organisation for Security and Cooperation in Europe. From the police, city hall and mass-media we have learned that a number of groups is planning violent attacks on pride participants. We believe that the unlawful decision of the city hall was designed to shift the responsibility for any victims of this violence from local authorities and the police to pride organizers. The actions of the Chisinau city hall and the police are in violation of the European Convention for Human Rights and the Universal Declaration for Human Rights, to which Moldovan is a signatory, as well as other international human rights obligations of the Moldovan state. It is also against the European Charter of Fundamental Rights of the European Union, which Moldova has aspirations to join."
Many plan to march anyway, in defiance of the order.
Previously
Moldova Kicks Off Pride Festivities with Symbolic Gay Marriage [tr]
(thanks, rex)