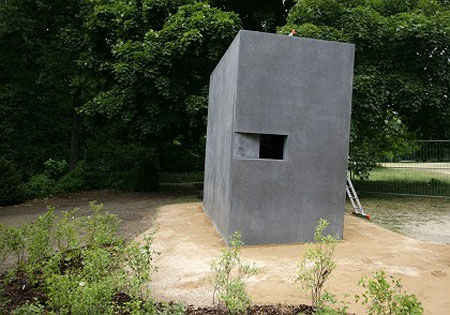 A monument remembering gays persecuted by the Nazi regime was unveiled in preparation for a ceremony today in Berlin which was presided over by Germany's federal commissioner for culture, Bernd Neumann, and openly gay Berlin Mayor Klaus Wowereit.
Below, Neumann and Wowereit peer into the monument.
The monument consists of a 3.6 meter-high, 1.9 meter-wide pillar containing a small window through which can be seen a one and a half minute film loop of two men kissing, directed by the Danish director Thomas Vinterberg. Vinterberg directed the 1998 film The Celebration.
A still from the film loop is below.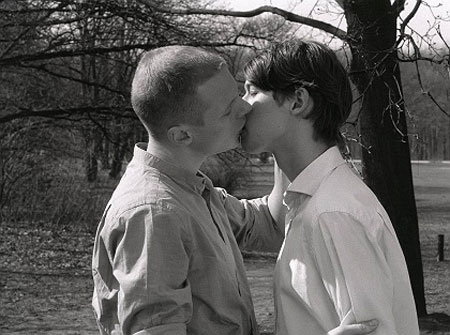 And here's another shot of the monument, which sits half a block from the Brandenburg Gate in Berlin's Tiergarten Park, across from the Jewish Holocaust memorial.
According to Deustche Welle, "Originally it was debated whether homosexuals should be included in the larger memorial before the decision was made to give homosexuals their own monument. But the design corresponds to the Holocaust Memorial's field of steles, a series of concrete blocks of varying sizes. While the Nazi persecution of the Jews is well known, for many years there was little public acknowledgement of Nazi atrocities towards homosexuals. Estimates put the number of homosexuals arrested by Nazis at about 54,000 with 7,000 being killed in concentration camps. 'It is not easy for a gay man to live in this country and this society. It's important to remember that this society punished homosexuality for 20 years after National Socialism ended,' said Günter Dworek of the Federation of Gays and Lesbians in Germany (LSVD), a driving force behind the project."
The monument was designed by Berlin-based Norwegian-Danish artist duo Ingar Dragset and Michael Elmgreen (below).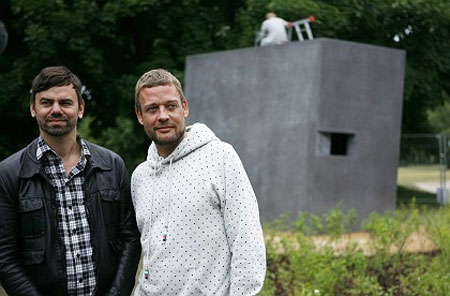 One more shot AFTER THE JUMP…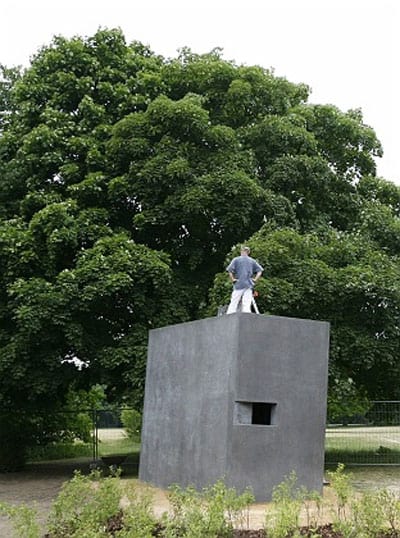 Related
Harvey Milk Bust Has Coming Out Party [tr]