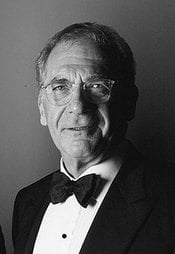 The great director Sydney Pollack died of cancer on Monday in Los Angeles. He was 73:
"Mr. Pollack's career defined an era in which big stars (Robert Redford, Barbra Streisand, Warren Beatty) and the filmmakers who knew how to wrangle them (Barry Levinson, Mike Nichols) retooled the Hollywood system. Savvy operators, they played studio against studio, staking their fortunes on pictures that served commerce without wholly abandoning art. Hollywood honored Mr. Pollack in return. His movies received multiple Academy Award nominations, and as a director he won an Oscar for his work on the 1985 film Out of Africa as well as nominations for directing They Shoot Horses, Don't They? (1969) and Tootsie (1982)."
Pollack's death comes just two months after his producing partner, the filmmaker Anthony Minghella, died following complications from a cancer-related operation.
Portrait shot by Michael Davis at the 2007 Palm Springs International Film Festival.
Two of Pollack's more memorable acting performances, in '82's Tootsie and last year's Michael Clayton, AFTER THE JUMP…