Director Rupert Goold certainly makes his presence felt but his wife, Kate Fleetwood, could have been less of a presence perhaps as I felt she fell into the trap of overacting the part of Lady Macbeth. And when the the three witches began to rap one of their most famous scenes, I wasn't tapping my toes but rolling my eyes. If a production could be overly interesting, this could be it. Utterly fascinating but flawed. I kept thinking, what's next? Setting MacBeth on Star Trek's Starship Enterprise?
T T (out of 4 possible T's)
Macbeth, Lyceum Theatre,
149 West 45th Street, New York. Ticket information here.
***FROM UP HERE
Julie White did rightly win the Tony last year for Best Actress for her portrayal of the hyper and hilariously cold-hearted personal manager in The Little Dog Laughed. As her theatrical follow-up she's chosen The Manhattan Theatre Club production of From Up Here, playwright Liz Flahive's sensitive cliche-free play about how a family deals with a teenage son who has taken a gun to school in order to threaten his bullying classmates. Instead of a treatise concerning gun control politics and violence in America, Flahive and the director Leigh Silverman have chosen to more delicately approach the issues that such a plot device places in front of all of us. It is not only the son who must deal with the consequences of his actions, but also his extended family.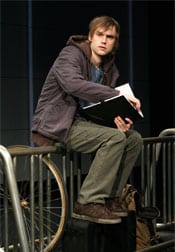 The production still felt a bit like an out-of-town tryout of a promising work the night I saw it in previews a few weeks back but it is well worth a visit if you're interested in new plays instead of the spate of revivals that increasingly make up the New York theatre season. White is her expected magnificent self. I kept waiting for the scene that made her choose this play as her follow-up to Little Dog Laughed and it comes toward the end when she and her son have ended up back in the police station once she herself has lost control and gotten in trouble. It is an acting class of nuance and stillness and histrionics all wrapped together as she and the young actor who plays her son, Kenny, Tobias Segal, find depths in the characters that leave them as well as the audience speechless with wonder.
T T 1/2 (out of 4 possible T's)
From Up Here, Manhattan Theatre Club, New York City Center, 131 West 55th Street, New York. Ticket information here.
Recent reviews…
On the Stage: Gypsy, The Four of Us, The Drunken City [tr]
On the Stage: Cat on a Hot Tin Roof, Adding Machine, Parlour Song [tr]
On the Stage: Crimes of the Heart, Sunday in the Park with George, and November [tr]
On the Stage: Come Back, Little Sheba and Next to Normal [tr]
On the Stage: The 39 Steps and Almost an Evening [tr]