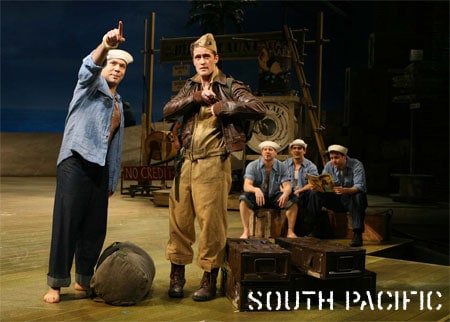 Kevin Sessums last reviewed Gypsy, The Four of Us, and The Drunken City for Towleroad. You can also catch up with Kevin online at his own blog at MississippiSissy.com.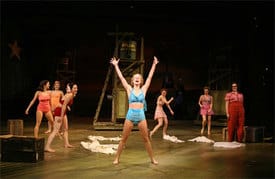 If Patti LuPone is proving her chops as the new Ethel Merman of Broadway in her portrayal of Mama Rose in Gypsy then the newest version of Mary Martin, Merman's old Rialto rival, that tomboy from Texas who could spark the constricted heart of the most uptight of tenors, is Kelli O'Hara. She is starring in one of Martin's most reknowned roles as Nellie Forbush in the Lincoln Center Theatre production of Rodgers and Hammerstein's South Pacific. Indeed, at times it seems as if Martin is peeking from beneath O'Hara's otherwise pitch-perfect portrayal so that it has the eerie quality of watching a kind of double performance, a musical characterization cast in the artistic terms of pentimento when one notices such a thing on a canvas for the first time. There is a richness to the texture. Yet it is a bit dizzying if one keeps focusing on it.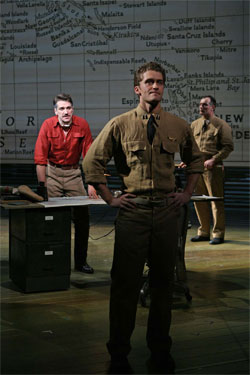 So let's focus on that first legendary production. It was based on two stories from James Michener's collection called Tales from the South Pacific, which won the Pulitzer Prize in 1948, an award the musical itself won two years later — along with all nine of the Tony Awards it was nominated for. Since Michener's two stories — "Fo'Dalla" and "Our Heroine" — were so serious, Rodgers and Hammerstein along with Joshua Logan, the original director, and Leland Hayward, the show's producer, asked him to write a third story not found in the book and he came up with one about Luther Billis, the show's womanizing comic relief. Ezio Pinza was cast as the romantic male lead, Emile De Becque, setting up the precedent of casting, when possible, a strapping opera singer in the role.
It has always been rumored that Oscar Hammerstein was so taken by Mary Martin in the last scene of Kurt Weill's One Touch of Venus, when she appeared in her tight-fitting gingham dress, that he insisted she be cast as Nelli. (She had been cast in Venus, her starmaking role, when Marlene Dietrich backed out of the lead because she, of all people, found it "too sexy and profane.") Martin was at the time, however, on the road in a national tour in one of Merman's great roles, Annie Oakley in Annie Get Your Gun, and didn't think she wanted to commit to what appeared to be yet another long run in her future. But when Rodgers and Hammerstein flew out to meet her on the road and played "A Cockeyed Optimist" and "Some Enchanted Evening", two of the first songs they'd written for the score, she accepted on the spot.
The show opened in Boston to rave reviews — so much so that playwright George S. Kaufmann joked that Bostonians were slipping money under the door of the Shubert Theatre in Boston not to buy tickets but just because they wanted to slip money under the door of the theatre where South Pacific was playing. Once it arrived in New York its reviews were so rapturous that the state's Attorney General threatened to shut it down once word got out that scalpers were charging — back in 1949 — two hundred dollars a ticket. He, of course, backed down. And the show ran for over five years.
This production — directed by Bartlett Sher, who directed the last big musical hit at Lincoln Center Theatre, The Light in the Piazza, the score and lyrics for which were written by Rodgers' grandson, Adam Guettel, and whose two young romantic leads were played by O'Hara and South Pacific's Lt. Cable, Matthew Morrison — could run just as long as the original one judging by its own critical reaction and the visceral love the audience has for the show from the first sweeping notes of its overture. In fact, it is one of the mosty stirring overtures I have ever heard or — and this is the genius of it — witnessed. As the floor of the stage slowly moves back into the far reaches of the Beaumount's deep recesses, the orchestra is revealed and the music becomes even more lush. It is a thrilling moment but also a dangerous one. Not because of the stage mechanics of it, but because one wonders how anything after it could be as thrilling.
For me, the overture was, indeed, the highlight of the show though I thoroughly enjoyed the rest of it. But it is a deeply old-fashioned one — especially because of the book by Hammerstein and Logan even with its allusion to pedophilia in its secondary love story between Lt. Cable and Liat. Most of the performances, however, could not be bettered.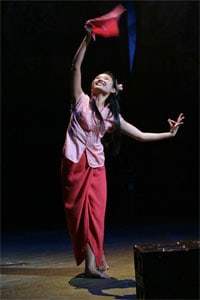 O'Hara is proving to be Broadway's brightest light. There is a wholesomeness about her that does not lessen her sexiness. Paul Szot, the Brazilian opera star, who is her Emile de Becque, is brilliant and, yes, equally sexy. One of the heartbreaking highlights of the show is his second-act solo "This Nearly Was Mine." Matthew Morrison proves his musical mettle yet again as Cable — though I wonder what his grandpa, John Wayne, would think of his always taking his shirt off in his stage appearances and pleasing all us gay guys so much in the audience. The Hawaiian star Loretta Ables Sayre as Bloody Mary — a role that could be problematic because of its racial stereotyping in a show that preaches against racial stereotypes — finds the anger and bitter beauty that transcend such problems. Yet, sadly, I was disappointed in Danny Burstein. As much as I loved his portrayal of the daffy Latin matinee idol in The Drowsy Chaperone, I found him quite offputting as Luther Billis. He overplays the admittedly hoary comedy of the part and I just didn't find him believable as a womanizer. His is a grating presence in the show when it should be a welcome and happy one…
All in all, it is a wonderful evening. Even the sailors are all individuals in their varied posturings about the stage. And be advised — right before O'Hara brings the house down with her marvelous-as-Martin version of "I'm Gonna Wash That Man Right Outta My Hair," two of the shower doors open and the cutest sailors scurry about the stage butt-naked adding to the leitmotif this theatre season of male nudity which enlivens even this, the most old-fashioned of musicals.
T T T 1/2 (out of 4 possible T's)
Rodgers and Hammerstein's South Pacific, Lincoln Center Theater-Vivian Beaumont, 150 West 65th Street, New York. Ticket information here.
***MACBETH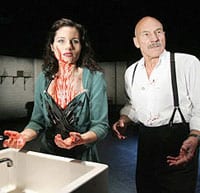 Patrick Stewart is packing them in as the title character in Macbeth at the Lyceum Theatre in a production that originated at the Chichester Festival Theatre before moving to the West End then had a sold-out limited run at the Brooklyn Academy of Music. Now it's taken up bloody residence on Broadway. Stewart is the frontrunner to take home the Tony in a couple of months for Best Actor. And although I admired the production for its high concept that takes fascism to a fetishistic level, I could never get out of my mind that I was watching just that: a production. It's so highly stylized that one is never bored, but one is never moved as well.
Continued, AFTER THE JUMP…
Director Rupert Goold certainly makes his presence felt but his wife, Kate Fleetwood, could have been less of a presence perhaps as I felt she fell into the trap of overacting the part of Lady Macbeth. And when the the three witches began to rap one of their most famous scenes, I wasn't tapping my toes but rolling my eyes. If a production could be overly interesting, this could be it. Utterly fascinating but flawed. I kept thinking, what's next? Setting MacBeth on Star Trek's Starship Enterprise?
T T (out of 4 possible T's)
Macbeth, Lyceum Theatre,
149 West 45th Street, New York. Ticket information here.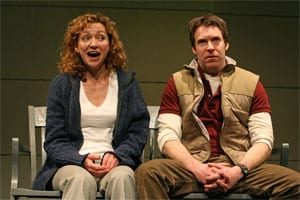 ***FROM UP HERE
Julie White did rightly win the Tony last year for Best Actress for her portrayal of the hyper and hilariously cold-hearted personal manager in The Little Dog Laughed. As her theatrical follow-up she's chosen The Manhattan Theatre Club production of From Up Here, playwright Liz Flahive's sensitive cliche-free play about how a family deals with a teenage son who has taken a gun to school in order to threaten his bullying classmates. Instead of a treatise concerning gun control politics and violence in America, Flahive and the director Leigh Silverman have chosen to more delicately approach the issues that such a plot device places in front of all of us. It is not only the son who must deal with the consequences of his actions, but also his extended family.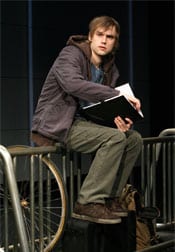 The production still felt a bit like an out-of-town tryout of a promising work the night I saw it in previews a few weeks back but it is well worth a visit if you're interested in new plays instead of the spate of revivals that increasingly make up the New York theatre season. White is her expected magnificent self. I kept waiting for the scene that made her choose this play as her follow-up to Little Dog Laughed and it comes toward the end when she and her son have ended up back in the police station once she herself has lost control and gotten in trouble. It is an acting class of nuance and stillness and histrionics all wrapped together as she and the young actor who plays her son, Kenny, Tobias Segal, find depths in the characters that leave them as well as the audience speechless with wonder.
T T 1/2 (out of 4 possible T's)
From Up Here, Manhattan Theatre Club, New York City Center, 131 West 55th Street, New York. Ticket information here.
Recent reviews…
On the Stage: Gypsy, The Four of Us, The Drunken City [tr]
On the Stage: Cat on a Hot Tin Roof, Adding Machine, Parlour Song [tr]
On the Stage: Crimes of the Heart, Sunday in the Park with George, and November [tr]
On the Stage: Come Back, Little Sheba and Next to Normal [tr]
On the Stage: The 39 Steps and Almost an Evening [tr]