Clinton advisor Mickey Kantor statement on Indianans unearthed: "Look at Indiana…it doesn't matter if we win. Those people are shit. How would you like to be a worthless white ni**er?" Kantor denies… UPDATE: Director Pennebaker says clip doctored…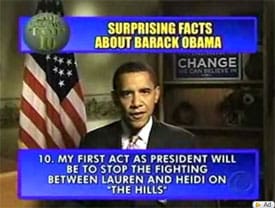 Barack Obama pledges to stop fighting between Lauren and Heidi on The Hills.

Christian Siriano hosting virtual prom.

Australian PM Kevin Rudd signals that he may block a move by the nation's capital to legalize civil unions: "The Prime Minister warned today that he would never agree to gay marriage, which would require amendments to the Marriage Act. The act expressly states that marriage is a union between a man and a woman. While the ACT government, led by chief minister Jon Stanhope, argues its civil partnerships are different to gay marriage, the Government is concerned it too closely mimics marriage. Mr Rudd now holds the power to disallow any ACT laws that he deems to replicate marriage, just as the Howard Government did during its final term. Despite previously arguing it was a matter for the states, the Prime Minister said today that no other state was proposing laws similar to the ACT."

Mariah Carey marries Nick Cannon in the Bahamas.

Banksy, who has curated an underground graffiti exhibition in London in a tunnel which opens tonight, tells Reuters: Creating graffiti "better than sex, better than drugs."

Tom Ford makes debut as costume designer for Santa Fe opera The Letter.

Massachusetts publishes 120-page anti-bullying guide for schools. Public Health Commissioner John Auerbach: "Our kids deserve to grow up in an environment that is free from harassment and violence. The consequences of bullying can last a lifetime, but all too often it is treated as a rite of passage."

Brazilian gymnast takes his talent to the street.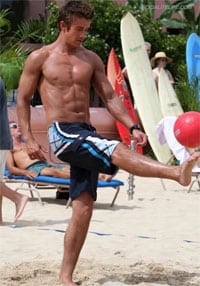 Never has a shirt on: Lipstick Jungle's Robert Buckley is the new Matthew McConaughey.

Jesus is coming in 2015, look busy.

North Carolina congressman Patrick McHenry behaving conservatively.

Man charged in killing of Florida gay activist Scott Graham: "A man has been charged with murdering West Palm Beach, Fla., gay rights activist Scott Graham, who was found dead in his home on April 16, The Palm Beach Post reported Wednesday. Ricardo David Fuenes-Valle, 20, was arrested on Tuesday near Tampa by Hillsborough County deputies and U.S. marshals. He is being charged with first-degree murder. Investigators found the suspect on Tuesday after they were told that Fuenes-Valle was planning to rob Graham or burglarize his home to steal jewelry and money, West Palm Beach police captain Pat Maney told the Post. Witnesses said Graham was last seen on April 14 with Fuenes-Valle. 'We don't really have a motive at this point,' Maney said in the article. 'We are working under that assumption.'"