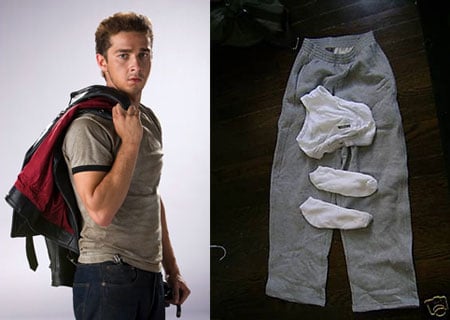 A pair of dirty undies have gone up for sale on eBay, inspiring a current bid of $400. Let's see how high this one climbs:
"THIS IS A COSTUME WORN BY FUTURE SCREEN LEGEND SHIA LABEOUF! PLEASE NOTE: COSTUME IS "AS IS" WHICH INCLUDES MAKEUP STAINS, DIRT; ETC! (Again, these items was worn and used for filming by Shia) This costume was worn by Shia in the film, 'A Guide to Recognizing Your Saints'. You receive, a pair of grey sweatpants, a pair of white breifs and ankle socks. Each items is tagged "YD" (meaning: the character Young Dito as played by Shia in the film)! This item comes with a letter of authenticity from First Look Media and an explanation of it's donation to Actor's Equity! It is noted by First Look that this item is "one of a kind" …and indeed it is!"
You know, I'd really rather have the cow costume.
Oh yeah, the "certificate of authenticity" is AFTER THE JUMP…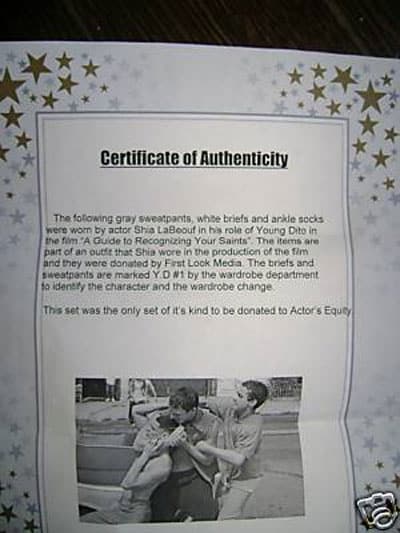 Like many things on this site it's really not "news" (though it may be to some), so if anybody bitches about whether or not it's news, they'll get banned.