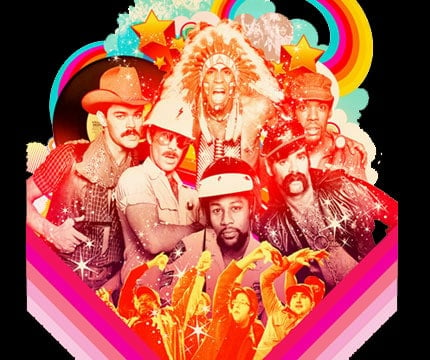 Here's a fascinating roundtable piece in Spin magazine which talks about the origins of the Village People and, more specifically, the anthem "Y.M.C.A." A few choice quotes:
CONSTRUCTION WORKER DAVID HODO: "It was 1977, and we were leaving a photography session on 23rd Street. Jacques Morali saw the big pink YMCA on 23rd and asked, 'What is this YMCA, anyway?' And after laughing at his accent, we told him the Y was a place where you could go when you first came to New York when you didn't have any money — you can stay there for very little. And of course, someone joked, 'Yeah, but don't bend over in the showers.' And Jacques, bless his heart, said, 'I will write a song about this!'"
COWBOY RANDY JONES: "David's a little off. Yeah, Jacques came up with the idea. But what happened is that when I moved to New York in 1975, I joined the McBurney YMCA on 23rd Street. I took Jacques there three or four times in 1977, and he loved it. He was fascinated by a place where a person could work out with weights, play basketball, swim, take classes, and get a room. Plus, with Jacques being gay, I had a lot of friends I worked out with who were in the adult-film industry, and he was impressed by meeting people he had seen in the videos and magazines. Those visits with me planted a seed in him, and that's how he got the idea for 'Y.M.C.A.' — by literally going to the YMCA."
Much more at Spin…
And incidentally, that McBurney YMCA is now David Barton, arguably the gayest gym in NYC.