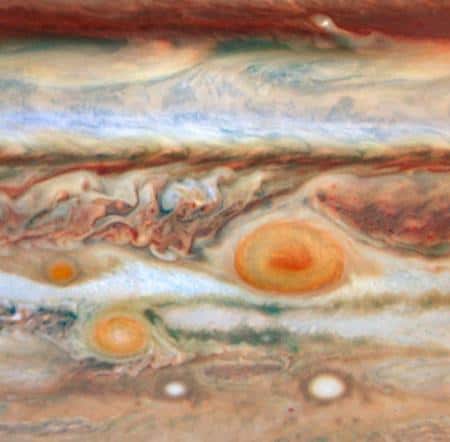 A third red spot has been observed on Jupiter, joining two others:
"Jupiter's Great Red Spot is an ancient, hurricane-like storm that may have been raging for 340 years or more, based on early observations with telescopes. At three times the width of Earth, it is the largest storm in the solar system. It was recently joined by a similar, but smaller storm called Red Spot Junior. Red Spot Junior grew out of the merger of three smaller, white storms between 1998 and 2000 and turned red in 2006. It is about the size of Earth…No one knows for sure what gives the three spots their red colour. But one theory is that especially violent storms dredge up material from deeper in Jupiter's atmosphere, such as phosphorus-containing molecules, which undergo chemical reactions that turn them red when exposed to sunlight."
Nah, it's the monoliths!