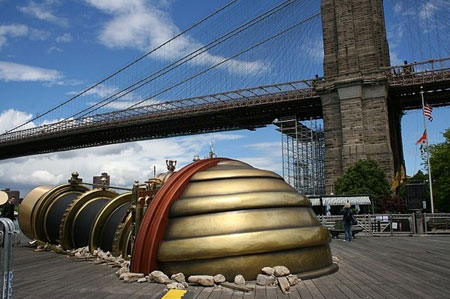 The Telectroscope, an enormous Victorian-looking contraption that allows the viewer to peer into a scope and look through a long tunnel all the way to England, was installed near the Brooklyn Bridge this week. An identical contraption was erected across the Atlantic, in London. And it works.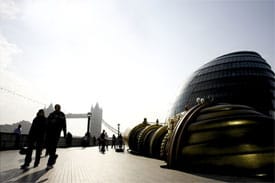 According to Gizmodo: "St George says in the 19th century his great-grandfather, Alexander Stanhope St George, built a trans-Atlantic tunnel from London to New York which was forgotten by time. The artist discovered his great-grandfather's plans recently and using the diagrams installed parabolic mirrors at both locations that reflect what's happening 3500 miles across the pond." Of course, the smoke and mirrors here has more to do with fiber optics and the internet transmitting a picture in real-time. But apparently, if you have a friend in London, you can sign up for a simultaneous look at one another from thousands of miles away. The Telectroscope will be open to the public from now until June 15.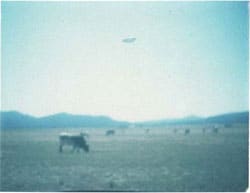 Steven Spielberg's forthcoming ghost and UFO-based social networking site is to be called Rising.

The U.S. is 15th in the world when it comes to broadband usage. Beating us? The cold, dark countries of the north like Canada, Sweden, Finland, Norway, and Iceland: "Come to think of it, all five of them are also quite cold and dark for long periods of time; perhaps huddling inside around a monitor all winter provides more impetus to meet up with friends, shop, and search for entertainment online."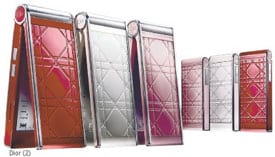 Christian Dior unleashes squadron of $5,000 cell phones.

New website Pos or Not challenges visitors to guess whether or not a person in a photo is HIV-positive. Joe.My.God: "The network wants the word about its H.I.V. site and its message to be spread like a popular YouTube video. It enlisted celebrities like Wyclef Jean, a musician, and Rosario Dawson, an actress, to make promotions for the game, which are playing across MTV's networks. The game — if it can really be called that — was played about 5.1 million times by 400,000 people in its first three weeks, according to mtvU. Entertainment Weekly's Web site suggested it might be the 'most depressing use' of an Internet trend ever, but suggested that any H.I.V. outreach effort could be beneficial."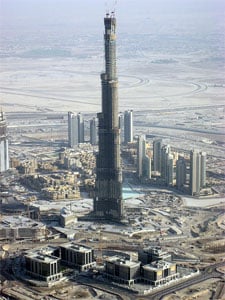 The Burj Dubai this week became the world's tallest structure: "As of today, you can find the tallest man-made building in Dubai. The skyscraper is called Burj Dubai (burj means tower in Arabic) and the tower overtook the Warszawa radio mast in Poland which measures 646 meters. The Dubai-based skyscraper measures 650 meters and it's expected to get even bigger and will reach 819 meters to the aircraft beacon."

Are carbon nanotubes, which are used to create tennis rackets, baseball bats, airplanes, and bicycle frames, as dangerous as Asbestos? "Animal studies indicate that these long and very thin carbon molecules could cause a cancer called mesothelioma, which occurs in the lining of the lungs. 'The problem of asbestos was caused when it was released into the air, if it was handled inappropriately or incorrectly. Carbon nanotubes could do the same,' said Andrew Maynard, chief science adviser to the Project on Emerging Nanotechnologies in Washington and one of the authors of the study."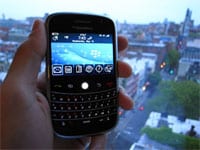 Exhibitionist John Mayer shows off his BlackBerry Bold.

Facebook is about to undergo a major facelift: "Designers are planning some widespread changes to the way the core profile page is organised, aimed at making it 'simpler, cleaner and more relevant'. The site is consulting its users on the changes ahead of a gradual roll out starting next month. Facebook is currently based around a single main page showing a news feed, friends and applications. But critics say a big increase in the number of free gifts, games and quizzes has left the site looking cluttered and confusing. Facebook's answer is to split the main profile into five separate pages, all accessed by clicking on tabs at the top of the screen."
TOWLETECH GUIDE TO THE TUBE:
SATELLITE: Lockheed Martin this week released this intense video of the satellite shootdown that occurred in February over the Pacific.
IPHONE vs BLACKBERRY BOLD: A completely biased comparison of the iPhone to the BlackBerry Bold from the folks at the iPhone blog.
STEVE BALLMER: Microsoft CEO is the target of an egg thrower in Hungary.
FLYING BIKE: Dude has discovered a way to attach a stationary bike to Google Earth and zoom around.