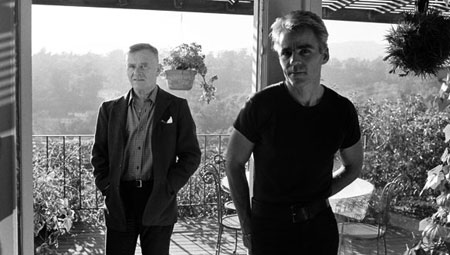 Chris & Don: A Love Story, the documentary about the 35-year relationship between author Christopher Isherwood and artist Don Bachardy, has been given a write-up in the New York Times today:
"Defying social conventions of the 1950s and '60s, the two men navigated Hollywood society as an openly gay couple, withstanding the slings and arrows of homophobes like the actor Joseph Cotten, who during a dinner party at David O. Selznick's house made loud, derisive remarks about 'half-men.' Navigation was made all the more treacherous by the 30-year age difference between the two, who met on a Santa Monica beach and became lovers when Mr. Bachardy was 18, but looked several years younger. They spent what passed for a honeymoon in Monument Valley, where the director John Ford, who was shooting a western, and his crew assumed they were father and son. Mr. Bachardy, now 74, recalls a traumatic experience that sealed their bond: a trip to Morocco to visit the author Paul Bowles during which Mr. Bachardy consumed hashish for the first time. He and Isherwood experienced a blind terror during which, afraid to let go, they clung to each other all night in their hotel room."
Check out the trailer for Chris & Don: A Love Story, AFTER THE JUMP. It opens today in Manhattan.