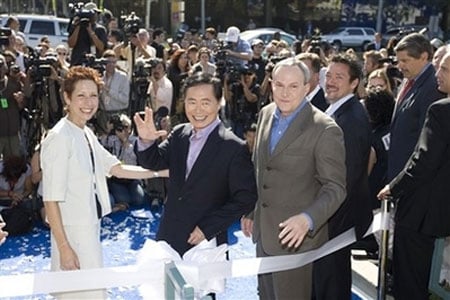 George Takei and Brad Altman inspired a media frenzy as they showed up in West Hollywood to get their marriage license this morning.
Said Takei to the media: "Isn't this a glorious California morning to make history? Last month, the California Supreme Court made history by ruling for equality in marriage, and this morning, we're all here to give flesh and blood reality to that ruling. We're going to make history. And I think of the words of a great man who made history himself. Mahatma Ghandi said, `Be the change you want.' And what I see before me are people who are the change for equality. Equality in marriage and equality in everything. I see before me people who personify love and commitment. I see people who are the personifications, the joy and celebration, and Brad Altman and I are going to join you, and we are going to get our marriage license today. Isn't that extraordinary and it's that wonderful?"
It certainly is.
Added Takei: "Congratulations to all of us: May equality live long and prosper."
Takei and Altman are planning a September wedding.
Also, check out a clip from the OC Register on what went down there today and interviews with many of the couples who married,

The L.A. Weekly has plenty of coverage from today's proceedings.

The Advocate has a blog devoted to marriage in California.
ALL TODAY'S and LAST NIGHT'S MARRIAGE COVERAGE ON TOWLEROAD
Veteran Bob Lehman and Tom Felkner are First Married in San Diego [tr]
Star Trek's George Takei and Brad Altman Talk Marriage [tr]
Outside City Hall [tr]
Inside City Hall: Del and Phyllis Cut the Cake [tr]
Same-Sex Marriage Legal in California [tr]
The First Same-Sex Couple to Marry in L.A. [tr]
5:01 PM [tr]
Clip of Orange County couples, AFTER THE JUMP…