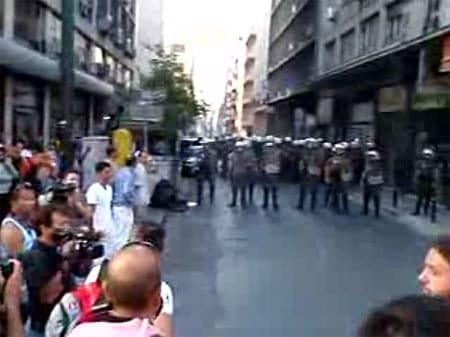 A group of plaintiffs from the Greek island of Lesbos (pictured below) begins their quest in court today to stop gay women from calling themselves lesbians. It seems as though they'd have to take their court case around the world. And even then: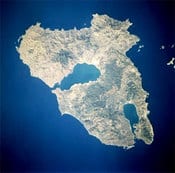 "The hearing has been initiated by plaintiffs on the Aegean island of Lesbos, who say they are unhappy that gay women have 'usurped' a term that locals claim should have only geographical connotations. 'We are very upset that, worldwide, women who like women have appropriated the name of our island,' said Dimitris Lambrou, a magazine publisher who is one of those bringing the complaint with other islanders. 'Until 1924, according to the Oxford English dictionary, a Lesbian was a native of our isle,' he said. 'Now, because of its new connotations, our womenfolk are unable to call themselves such and that is wrong.'"
Since they announced their intentions at the end of April, a mayor on the Greek island of Tilos conducted two same-sex marriages, bringing gay issues to the forefront of the nation. The issue has already stirred conflict: "On Saturday police intervened (above) when members of the far-right Golden Dawn group attacked gay pride marchers in the biggest ever Gay Pride parade in Athens. Thousands of supporters marched through the capital chanting 'it is our right', but were pelted with eggs, flour and yoghurt by the group."
Two clips of the riot police, and of marchers having eggs and yogurt thrown on them during the Pride parade in Athens, AFTER THE JUMP…
Previously
Greek Islanders of Lesbos Want the Name 'Lesbian' Back [tr]
Left, marchers assault by debris from above. Right, riot police block the street.