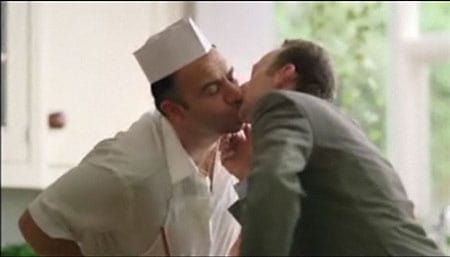 So much for progress. The Heinz Deli Mayo ad featuring a "mum" who was replaced by a New York Deli Chef as well as a gay kiss has been pulled from the airwaves in the UK after receiving more than 200 complaints:
"The Heinz Deli Mayo ad has been pulled after less than a week on air after viewers complained to the Advertising Standards Authority that it was 'offensive' and 'inappropriate to see two men kissing'. Other complaints include that the ad was 'unsuitable to be seen by children' and that it raised the difficult problem of parents having to discuss the issue of same-sex relationships with younger viewers. 'It is our policy to listen to consumers. We recognise that some consumers raised concerns over the content of the ad and this prompted our decision to withdraw it,' said Nigel Dickie, director of corporate affairs for Heinz UK."
It's just horrible to see two grown men in a nurturing environment who obviously care for one another, showing the proper way to bring up children.
The ad, if you missed it, AFTER THE JUMP…