Gay panic: Trial to begin for Cesar Israel Villazano in Florida. He shot a man wearing a mini-skirt and high heels in the back of the head for making a sexual advance: "Villazano told police he was embarrassed because he isn't gay."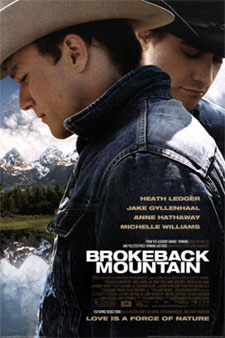 Hollywood Reporter: Gay indie films more plentiful than ever, but suffering critically and at box office. "Strand Releasing's 22 films in theaters last year (most with GLBT themes) grossed just $462,000. Killer Films has shifted its focus from queer-themed features to true crime dramas and other films, with tepid critical and financial success. Rotten Tomatoes says that gay- and lesbian-themed films averaged a 51.5% rating in 2006 and 2007 (well below its under-60% "rotten" threshold), while projects like the 2005 Toronto fest's best Canadian feature winner, "C.R.A.Z.Y.," can't secure U.S. theatrical distribution."

Openly gay journalist David Self who took part in one of Britain's first civil partnership ceremonies, has died at the age of 67.

Man makes love to Cheeto…really.

UK Vicar Dudley has no regrets over performing marriage of two priests: "Amazing flowers, fabulous music, a ceremony both solemn and oddly homely, familiar words reordered and reconfigured, carrying new meanings. Nothing jarred, nothing felt even vaguely inappropriate. New and untried but not wrong."

Harvey Dent: viral video for The Dark Knight unleashed…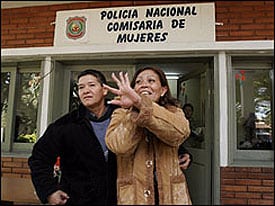 Couple jailed in Paraguay for same-sex wedding is freed after one of them is discovered to be a hermaphrodite.

Anti-gay "pro-family" bigot Paul Cameron takes his diatribe to Russia.

What does gay look like?

Larry Craig and Dave Karsnia wed in quaint bathroom ceremony: "The private ceremony was held in a quaint public bathroom on the third floor at San Francisco City Hall. In an interview after the ceremony, Craig said, in his highly oratorical and completely off-putting voice, 'We wanted all of the heat to die down before we went forward with this. Well … not all the heat.'"

That kiss that Dwayne Johnson had with Steve Carell must have really affected him. He's still talking about what a man he was to do it: "It was like — you know, you ever had, like a warm apple pie with that cold ice cream, too? And you find that balance, where you're like [utters disgusting sound]. Hey, it was great, it was great."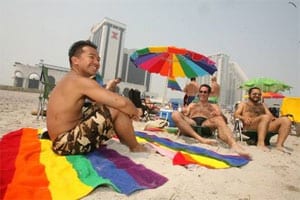 Atlantic City holds first-ever "Gay Day at the Beach". ORganizer: "There isn't a gay area in Atlantic City. "We decided to pick Flag Day as a way to stake out our claim for an area. We're trying not to be political, but there's so much to be political about."

The 70's are back: Robbie Williams flashes his chest rug.

Former NY Governor Eliot Spitzer to be named the "Ultimate Sugar Daddy". "He'll win a pound of sugar, a year's worth of free lap dances from strippers at the VIP Men's Club in Chelsea and an unlimited supply of testosterone pills."

Ireland's Catholic Bishops restate opposition to gay marriage: "In view of the current debate in our society about the nature of marriage, sometimes promoted by individuals or institutions who claim support from Christian ideals, the bishops reiterated that marriage presupposes the mutuality and complementarity of the sexes."