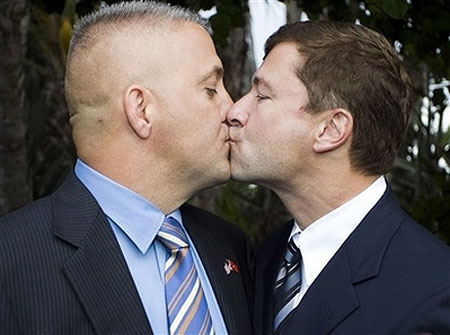 Bob Lehman, a former Marine, and Tom Felkner were the first same-sex couple married in San Diego this morning, at just after 7am.
"Veteran Bob Lehman and Tom Felkner were among more than 200 couples expected to get married in the county Tuesday, the first day that gay weddings could be legally performed in this county after the state Supreme Court last month struck down a statewide ban on same-sex unions. Other couples getting married in the morning included Christopher Dye, 45, a Web page designer from North Park and his partner, Daniel Szpak, 46, a registered nurse. They have been together 13 years and got married around 7:30 a.m.."
Couples arriving early were met by a single protestor on the steps of the county building, who left less than an hour later.
MORE MARRIAGE NEWS…

60 couples set to wed in the OC…

"Acting mayor" Eric Garcetti marrying same-sex couples in L.A. while Mayor Villaraigosa is in Israel.

Gay marriage supporter in San Francisco collapses at City Hall, and anti-gay protestor proclaims: "God killed him for loving fags!!"

States gird for legal challenges…"Legal challenges could crop up immediately, Georgetown University law professor Nancy Hunter said. For example, a couple from Kansas could travel to California to wed and have a car accident in Colorado on the way home. Hospital visitation and authority to make medical decisions for a spouse likely would become an issue in a state that prohibits gay unions."

Divorce lawyers licking their chops…

The story of one couple wed in SF in 2004 headed to California from Chicago to get married once again…"Kind of bittersweet to be going through it again. I was really happy the first time and I was saddened and shocked when it was invalidated."
A news clip of coverage from KTLA, AFTER THE JUMP…
And our ongoing coverage…
Star Trek's George Takei and Brad Altman Talk Marriage [tr]
Outside City Hall [tr]
Inside City Hall: Del and Phyllis Cut the Cake [tr]
Same-Sex Marriage Legal in California [tr]
The First Same-Sex Couple to Marry in L.A. [tr]
5:01 PM [tr]