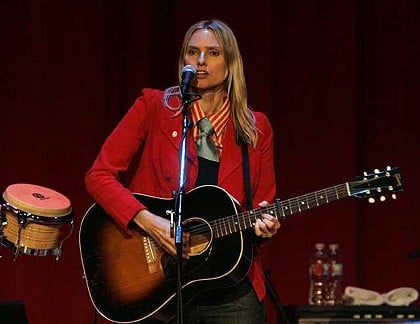 Robbie Daw presents a weekly pop music update here on Towleroad! Robbie runs his own site called Chart Rigger.
Low alto vocals delivering bar-raising lyrics in a semi-monotone manner? Must be time for a new Aimee Mann album! Coinciding with the release of her latest LP @#%&! Smilers yesterday, Mann did an in-store performance at L.A.'s Amoeba record store. You can stream the show at the Amoeba website.
As well, Cafe Largo, long the somewhat resident Los Angeles venue of performers like Mann and Jon Brion, recently relocated from Fairfax Avenue to the 280-seat Coronet Theater on La Cienega Boulevard. Aimee performed at the new location Monday night with Brion accompanying her.
You can also check out Blackbook's feature on indie artists (including Mann) who are changing the sound of movies: " As Mann can attest, it is far more common for songwriters, especially ones with cult followings, to find themselves in the baffling quicksand of 'work-for-hire'."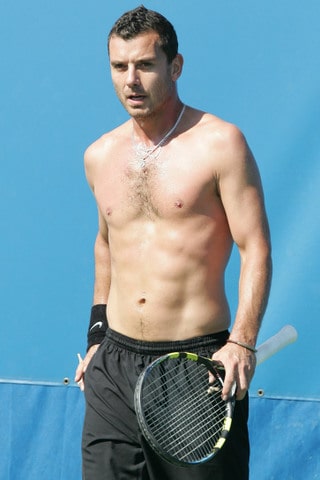 The cover of Radiohead's "Creep" that Prince rocked out at Coachella last month has now been removed from YouTube at the command of the purple, copyright-crazy one. Instead it's been replaced with this.

Radiohead's two-disc Best Of, covering all the band's output on Capitol/EMI, was released yesterday along with an accompanying DVD. In addition, the British rock group's back catalog finally sees the light of day on iTunes this week. Now if only the Beatles' music would follow suit. And, er, Garth Brooks…

Also out this week is WANDERLUST, the solo album from Gavin Rossdale (pictured right). And how is it, you might ask? Why, let's take a look at iTunes to see what the user Bob Dylan Rocks has to say in his one-star review titled "Crap": "Maybe someday Gwen will give him his balls back!!!!!!"

The True Colors Tour kicks off with a bang…and a striped pantsuit.

Pack your favorite T-shirt that you'll end up taking off at some point in the sweltering 95 degree weather — the 2008 Austin City Limits festival lineup has been announced.

Daft Punk are in no hurry while they work on their new album.

And because you were probably worried about him, you should know that Kid Rock has sworn off celebrity relationships after Pam Anderson: "I got burnt too hard. I got completely thrown under the bus, no question about that. I don't want anything to do with the whole world she is in. It's a very dark place. I'm not going to get caught up in any of that [bleep] anymore … those Hollywood relationships."

Ending on a fun note, here's the Bimbo Jones remix video for Danish pop act Alphabeat's "10,000 Nights" single, out now in the U.K. (Catch the un-remixed version here.)
What is technically Weezer's third self-titled album (and their second record produced by Rick Rubin), also unofficially known as The Red Album.
The Declaration, Ashanti's first full-length set in four years.
Jewel's foray into country music, Perfectly Clear.
Indestructible, the fourth album from hard-rocking alt band Disturbed.
R&B/jazz singer Lalah Hathaway's new set, Self Portrait.