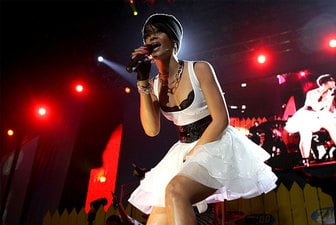 Robbie Daw presents a weekly pop music update here on Towleroad! Robbie runs his own site called Chart Rigger.
"One early evening during the first week of February in 1969 I visited Otis Tilson. He was an incredibly comely and tragic homosexual queen with whom I had been acquainted for most of the twenty-five years that I had been a black pimp in Chicago, Illinois."

Thus begins Robert "Iceberg Slim" Beck's classic and long-out-of-print 1969 novel, Mama Black Widow, a fictional memoir of a "black queen adrift with his brothers and sisters in the dark ghetto world of pimpdom and violent crime." In addition to Mos Def and Macy Gray, Rihanna has been cast in the film adaptation, due out in 2009. Mama Black Widow will be her acting debut.
Darren Grant, director of music videos by Destiny's Child ("Bills, Bills, Bills", "Survivor") and Jewel ("Standing Still") is directing the film. As for "comely and tragic" Otis, Brian J. White is cast in that role. White previously played gay in the 2005 Sarah Jessica Parker flick, The Family Stone, and the leader of a step-dancing fraternity in last year's Stomp The Yard.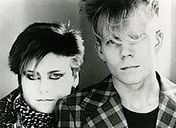 Want a second chance at tickets to Yaz's sold-out Reconnected Tour?

Robyn will be Madonna's opening act for eight of the Material Girl's August and September European dates.

Coldplay's new album, Viva La Vida Or Death And All His Friends, gets its U.S. release today. The set was made available in England last Thursday, and over its three-day sales weekend moved 302,000 copies and easily topped the U.K. chart on Sunday. Meanwhile, minor controversy arised recently when Brooklyn band the Creaky Boards claimed Chris Martin and Co. knicked the melody of one of their songs, claiming the Coldplay frontman was seen grooving in the audience last year at one of their New York shows.

Duffy apparently left in tears after a run-in with Johnny Rotten. On a more positive note for the Welsh singer, she's rumored to be recording the new James Bond theme.

Five years after Hotel Paper, Michelle Branch's third solo album to be released by year's end.

The Lollapalooza 2008 lineup and schedule has been posted.
Katy Perry's One Of The Boys. Her single "I Kissed A Girl" is currently the top download at iTunes.
Rise And Fall, Rage And Grace, the eighth studio album from The Offspring.
Remixes for Alanis Morissette's single, "Underneath," featuring turns by Josh Harris, Morgan Page and John Dahlback.
Nostradamus, a concept album revolving around said prophet, by Judas Priest.