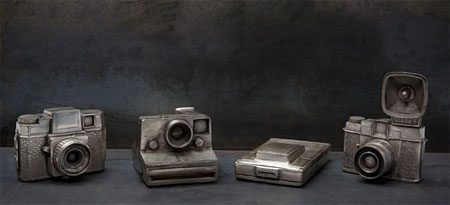 Fashion designer Rogan is opening a new boutique in New York, and New York magazine reports that R.E.M. frontman Michael Stipe will be having something of an art show there, exhibiting some bronze sculptures he did of cameras and music devices. Said Stipe:
"The radio alarm clock … changed forever the fragile state between sleeping and waking, allowing you to wake to your favorite radio station … The polaroid [one shot and sx70] revolutionized photography by providing instant images available to anyone … Cassettes provided portable, compact music, altering forever the influence of radio as the individual became their own disc jockey."
The objects are not for sale but if you go on the 27th you can pick up a Rogan Stipe T-shirt.
Previously
Michael Stipe Has Had Enough of the Fear and the Arrogance [tr]
Michael Stipe Has an Announcement to Make [tr]