As California gears up for a gay wedding boom, nine gay rights groups issue statement urging those who get married in California not to rush back to their states and sue: "In an unusual six-page memorandum, written for same-sex couples, groups ranging from the American Civil Liberties Union to Lambda Legal warned that lawsuits would invite 'bad' court rulings that could take years to overturn." Two California countries have announced they'll halt all weddings, saying they lack resources.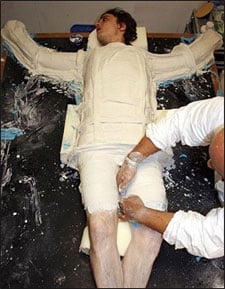 Crucified by the media: rocker Pete Doherty undergoes plaster cast for marble statue of himself as Jesus Christ.

Obama meets with Christian leaders…

Jonathan Capehart warns of an Obama-Nunn ticket: "When Bill Clinton sought to keep his 1992 campaign promise to end the ban on gays and lesbians serving openly in the military, he met strong resistance in the Pentagon and on Capitol Hill. Nunn, one of the most adamant opponents, led a series of hearings that were stacked against ending the prohibition. Critics noted that Nunn held more hearings about and spent more time on gays in the military than he had on the defense budget or even the Navy's Tailhook sexual harassment scandal … an Obama-Nunn ticket does not sit well with some prominent gay Democratic fundraisers."

Clay Aiken is not just having a son, but he has another baby in the freezer.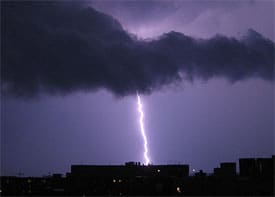 John Aravosis at AmericaBlog got some intense shots of the storm that passed through the east coast yesterday.

Judy Garland to sing on stage again: "Cutting-edge technology unavailable just a few years ago has enabled NY-based production company Running Subway to present Judy's larger-than-life passion and personal story to 21st century audiences in what can only be described as the greatest Judy Garland concert ever."

Fishnets: Experts conclude that the Oscar de la Hoya drag photos were indeed doctored.

Dolores Neuman, photographer whose camerawork was central to Rob Epstein's 1984 documentary The Times of Harvey Milk, dies in Washington D.C. of kidney cancer.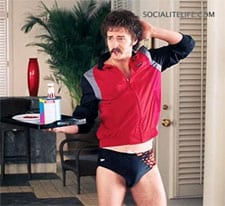 Justin Timberlake on Love Guru wardrobe: "This may be TMI but I was constantly digging out those wedgies!"

Canadian gay couple Theo Wouters and Roger Thibault settles $400,000 defamation lawsuit brought by neighbors out of court.

Chace Crawford reads a few juicy scripts in London.

Mitt Romney purchases $12 million home in La Jolla, California.

Democrats don't touch 'Don't Ask, Don't Tell': "Since taking control of Congress in January 2007, Democrats have not convened hearings on the matter or taken up legislation that would let gays serve openly, although most party members favor repealing the prohibition. Instead, Democrats have focused their efforts on bringing troops home from Iraq and other issues that have broad appeal among voters, such as lowering gas prices."

Tivo pulls web page which acknowledged their relationship with Focus on the Family.