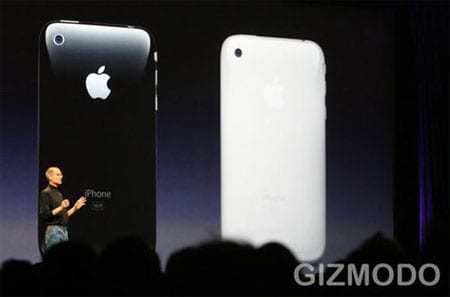 So the big news this week was the announcement of the long-awaited 3G iPhone (in black or white), which comes with built-in GPS. Here's Steve Jobs' keynote address in 60 seconds.

The iPhone App store will be available in early July around the time of the phone's launch with the iPhone 2.0 software. It will work like the iTunes store, with users downloading free or paid applications via a button on the phone's interface. Games by Sega, an auction app from eBay, a mobile social networking app called Loopt, a TypePad blogging client, a news app from AP, a stats and score app from Major League Baseball, and a medical-oriented app called Modality were among those shown off. Expect many more as 250,000 of Apple's SDK (software development kit) have been downloaded from the company. Steve Jobs also demo'ed MobileMe (and its questionable logo) which replaces Apple's .Mac service and keeps you fully synced from phone to computer almost instantly.

If you bought a 1st generation iPhone after May 27th, you get a 3G iPhone free. If you have a 1st generation iPhone and you upgrade to the 3G iPhone you can give your phone away to someone you love and they can activate a new account with it.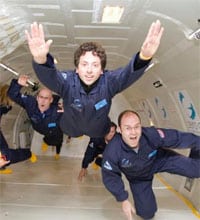 Google founder Sergey Brin spent some pocket change ($5 million) investing in space tourist company Space Adventures. They book flights on Russian Soyuz rockets. Brin will reportedly get on board one of them in the next few years. Said Brin: "I am a big believer in the exploration and commercial development of the space frontier."

Yahoo and Google entering into partnership around search advertising: "The deal is non-exclusive. Yahoo will be able to run Google ads alongside Yahoo ads or other ad providers. The deal is expected to add $800 million a year in revenues and $250 million to $450 million in operating cash flow. The deal only applies to paid search and contextual ads, not to algorithmic search."

Firefox 3 to be released on June 17…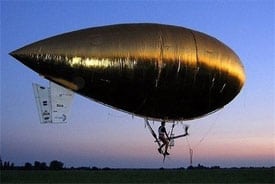 Stephane Rousson, a 39-year-old Frenchman, No date has been set for the next attempt.

A Bulova watch lost at sea was reunited with its owner after 67 years sitting at the bottom of Gibraltar Harbor. It was still working. Owner: "To say I was stunned could be considered a major understatement,' said Mr Bacon, a widower and father of four who is almost 90. It truly was a miracle that I had been reunited with that watch after a lifetime. Now I wear it every day and it keeps perfect time, even after all those years in the water. It is absolutely excellent and I consider it a long-lost friend.'"

Here's a fascinating concept design study from BMW: "GINA, an acronym for "Geometry and Functions in N Adaptations," obviously. When motorized metal framing moves, changing the car's shape and function, its flexible fabric skin moves with it. (Quick: Someone tell Michael Bay.) And though it's fully functional, at the moment there are no plans for a production run—GINA's only on view at BMW's Munich museum."

Do you want the thinnest notebook computer in the world but can't decide between the Macbook Air, the Voodoo Envy 133, or the Thinkpad X300? Here's a handy comparison.
TOWLETECH GUIDE TO THE TUBE
MOON MISSILES: Britain has successfully tested "moon missiles" called Penetrators. They plan to shoot four from a spacecraft into the surface of the moon to test what's below its surface.
POPCORN: This video, widely circulated this week, was outed as a viral video from Bluetooth headset retailer Cardo Systems. It's a hoax.
SPORE CREATURE CREATOR: Maxis is set to release the Spore creature creator on June 17, in anticipation of the full Spore video game this fall. It will allow people to create thousands of creatures that will ultimately populate the videogame once it arrives in users' hands. this clip demonstrates the process of building a creature.
SKYSCRAPER: A 65-foot 'skyscraper' made out of Erector set pieces created by artist Chris Burden was unveiled in NYC's Rockefeller Center this week.