Cooper goes on to say he'd be "shocked" if McCain tapped her (so would Fiorina) as Vice President (oh). But I wouldn't. I think McCain wants someone he likes and knows and is ideologically comfortable with rather than, for example, a religious zealot cynically chosen to plaster over a hole in his right-wing cred.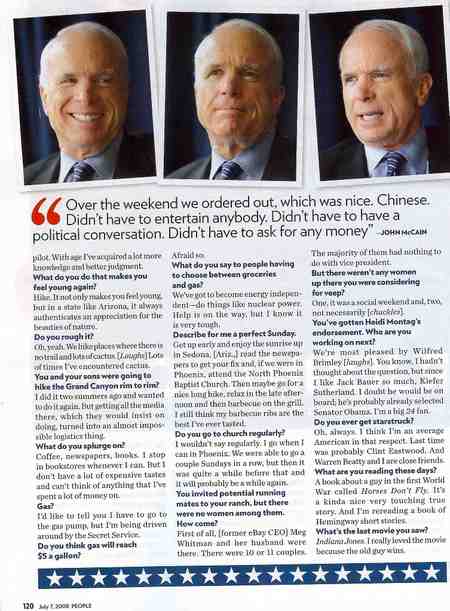 Next comes an exchange between McCain and interviewer Sandra Sobieraj Westfall from People's July 7, 2008, issue in which he was asked why none of the veep possibles he recently hosted at his home were women. McCain says:
"First of all, [former eBay CEO] Meg Whitman and her husband were there. There were 10 or 11 couples. The majority of them had nothing to do with vice president."
But needled about why he wouldn't consider any women there as potential veeps, McCain admits:
"One, it was a social weekend and, two, not necessarily. [chuckles]"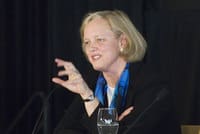 Meg Whitman is not a bad choice for him—she was the eBay queen (which bolsters his legendarily absent economic skills) and is a longtime Republican-party (and Bush) enthusiast. And she's a woman, which will give pause to the half of the country that generally decides elections and that is more Democrat than Republican of late.
Other possible female veeps for McCain could include Texas Senator Kay Bailey Hutchison (a strong contender) and Alaska Governor Sarah Palin (fat chance). Don't even get me started on Condoleeza Rice.
Of course, that might up the ante and make a female pick all the more appealing to Barack Obama. (Although due to the conventions' timing, it's thought Obama's pick will be announced first.) Which might open the door for choices like newcomer Hillary Clinton (you may have heard of her), Missouri Senator Claire McCaskill, retired General Claudia J. Kennedy or the oft-discussed Kansas Governor Kathleen Sebelius.
In which case, a history-making election would be all the more history-making—imagine a woman on both tickets?
(Or McCain could just pick another dude.)