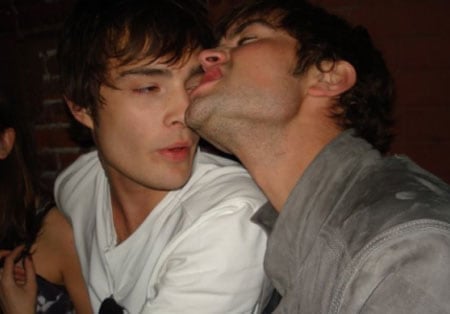 Gossip Girl's Ed Westwick and Chace Crawford are apparently still thick as thieves.
NYDN Rush & Molloy reports: Gossip Girl co-stars, roommates and friends Chace Crawford and Ed Westwick are still thisclose. The twosome showed up at a recent show by Brit popsters The Ting Tings, and a spy says 'they were never more than a foot apart. It was freaky. If one moved two feet to the left, so did the other.' The duo also chose to ignore the hordes of flirty girls trying to get their attention, says our spy: 'They were only interested in each other.'"
Of course, when presented with the gay insinuation in late June, a publicist issued this statement: "These endless rumors are absolutely untrue".
But apparently one thing is true about the rumors. They are endless.