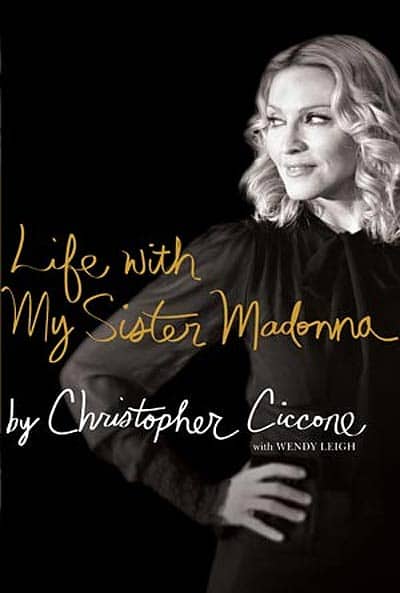 The cover for Christopher Ciccone's tell-all Life with My Sister Madonnna has been revealed.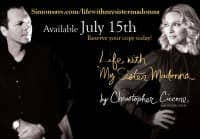 Initial reports from Brit tabloid The Sun on the contents of the book aren't all that shocking:
"The Like A Virgin singer was dancing on a table at 4am when she dragged Gwyneth up to join her. Younger brother Christopher Ciconne will tell how he watched as the pair started dancing together. Then — as party-goers watched in amazement — Madonna grabbed Gwynnie, pulled her to her and kissed the stunned Hollywood star full on the mouth…Ciccone's tell-all book — called Life With My Sister Madonna — will tell of lesbian flings and other sordid secrets of Madonna's past when it is out later this month. Sources say that Ciccone — an interior designer — will reveal how she took drugs with leading showbiz executives. Ciccone, 47, will also tell all about her rocky marriage to Hollywood actor SEAN PENN. And the explosive book will spill the beans about her rows with film director hubby Ritchie."
None of this is anything we haven't heard before. The book is slated for release next week.
Madonna released a statement over the weekend denying her rumored divorce with Ritchie and affair with Yankee Alex Rodriguez:
"My husband and I are not planning on getting a divorce. I know Alex Rodriguez through Guy Oseary, who manages both of us. I brought my kids to a Yankee game. I am not romantically involved in any way with Alex Rodriguez. I have nothing to do with the state of his marriage or what spiritual path he may choose to study. I have learned over the years not to take accusations and the many false reports about me very seriously. I also appreciate how fiction and fact seem to be perceived as one and the same by people who read both newspapers and the internet."
TMZ reports that the divorce is simply a cog in the publicity machine for the Sweet and Sticky Tour: "There is a whole PR strategy that has been in place for some time…The marriage, we're told, has been effectively over for some time. The couple are friends, and have realized that it is in both of their interests to make a pile of cash from this tour. No working things out here — our spies say rumors of reconciliation are 'garbage.' One person told us, 'She is simply playing the media — and the public — as usual.'"
Meanwhile, Rodriguez' wife Cynthia has filed for divorce.