Yesterday, I posted that Sacha Baron-Cohen had duped former Mossad intelligence agency Yossi Alpher into a fake interview as his gay Austrian TV reporter persona Bruno for the upcoming film. Today come reports of a "cage fight" last month in Fort Smith, Arkansas where a near riot erupted after a staged "scene" in which two fighters ripped off each other's clothing and kissed: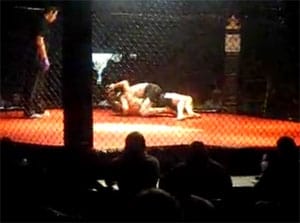 "The two men would then wrestle, rip away some of their clothes and share a brief kiss reminiscent of one between Baron Cohen and Will Ferrell in the film 'Talladega Nights: The Ballad of Ricky Bobby.' Producers said 'there would be a romantic embrace,' Holland said. 'They said it was kind of to essentially make fun, poke fun at wrestling _ two guys rolling around on the floor, all sweaty.' An elaborate array of mounted and handheld video cameras caught the crowd of 1,600's reaction as the two men 'went right up to the line' of the city's morality laws, Holland said. The two men stripped down to their underwear, kissed and rubbed on each other, the sergeant said. The audience, as well as local fighters drawn to take part in the show, became enraged. 'It set the crowd off lobbing beers,' Holland said. 'They had beers in plastic cups. Those things can get some distance on them actually.' Holland said it took officers about 45 minutes to clear the convention center, as the two actors sprinted away through a specially set-aside tunnel. Those in attendance were told by several signs on display that they'd be filmed, Holland said, and signed waivers before the event. Convention center sales director Karin Hobbs declined to name the event's sponsor Monday."
Seems reminiscent of the rodeo scene in Borat, and sounds pretty frightening, actually. Baron-Cohen's publicist is refusing to comment on the event or its suspected association with the Bruno film.
A cage fight (not the one in question) at Fort Smith, AFTER THE JUMP…
(via joe.my.god)