Florida GOP Rep. Bob Allen, who was convicted of solicitation after offering a police officer $20 for the opportunity to blow the officer in a public restroom last summer, is still insisting he's innocent and trying to be cleared in the case.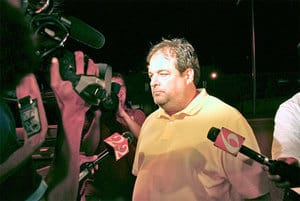 He went to court in May to appeal, but yesterday the Brevard County Circuit court rejected it:
"Allen was sentenced in November to six months' probation, a $250 fine and other court and restitution costs — a sentence put off pending the outcome of the appeal. The Brevard County Circuit Court panel, made up of three judges, has affirmed the conviction. Allen now has the option to appeal to the 5th District Court of Appeals. Allen has consistently maintained his innocence. His attorney, Greg Eisenmenger, argued in the appeals hearing in May that Allen wasn't charged under the right statute, saying that in order for Allen to be guilty of solicitation, he would have had to request money and sex from the officer. Eisenmenger said it was the officer who suggested 'sex for money.' Prosecutor Pat Whitaker countered that the statute under which Allen was charged also prohibits inducing people into prostitution. He said Allen's actions show he induced the officer into having "sex for hire" by agreeing to pay."
No doubt we'll soon see Allen in the 5th District Court of Appeals.