Patric Ian Henn, a Long Beach-based gay man who writes the blog "Boy About Town" is in central Los Angeles jail awaiting extradition to Florida, the Long Beach Press Telegram reports: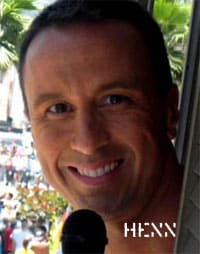 "Henn, whose video segments, blog and e-mail magazine have focused on Long Beach society, politics and the gay community, as well as Hollywood, was in a Los Angeles jail awaiting extradition to Florida, where he is wanted on a fugitive arrest warrant. The 33-year-old was wanted for skipping out on his probation and failing to repay money he had received from the American Red Cross and other relief organizations following the Sept. 11, 2001, terrorist attack on the World Trade Center, according to corrections records. Henn pleaded guilty in 2005 to falsely claiming his domestic partner had died in the 9-11 attack, for which the Red Cross and other charity organizations gave him more than $68,000."
After serving two years in prison, Henn went on the lam, moved to Long Beach, and attempted to create a new identity. He still owes at least $29,000 in restitution.
Henn blames his criminal activity on crystal meth on the last entry posted to his blog on July 12: "In light of what has happened to me recently, I want to assure you all that Who I was is not who I am today. This by no means excuses what I did, however during that time in my life I was heavily addicted to crystal-meth and unfortunately made some extremely poor choices that I am really not proud of. It wasn't until some people found me, brought me to Long Beach and put me in a recovery home that I was able to begin to get my life back. I sincerely want to apologize to all of you, it hasn't been my intent to deceive anyone in the community."
Whatever.
One of Henn's 'red carpet' interviews with Margaret Cho, AFTER THE JUMP…