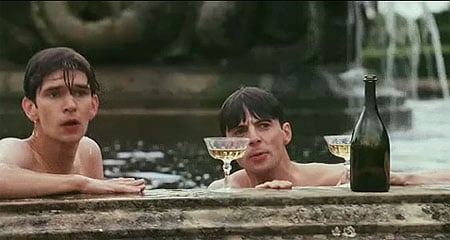 A new theatrical version of Brideshead Revisited set to open in limited release this week will take the gay ambiguity in the Evelyn Waugh novel to a more definitive place.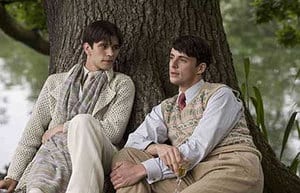 According to The Telegraph, "a new film adaptation of Evelyn Waugh's Brideshead Revisited will out Sebastian Flyte as a homosexual and even feature a gay kiss between him and Charles. In one controversial scene in the new £10 million film, which has its world premiere in New York on Tuesday, a love struck Sebastian attempts to kiss Charles on the mouth before his amorous advances are resisted. The scene has been welcomed by some gay rights campaigners who have already dubbed the film 'the most overtly' gay Brideshead ever. But it is set to infuriate purists who insist that the relationship between the two friends has been distorted. Brideshead Revisited tells the story of Charles Ryder and his infatuation with Lord Sebastian Flyte, his aristocratic family and their ancestral home, Brideshead. The two men meet while students at Oxford and Ryder finds Flyte's decadence and loucheness irresistible. Although fans of the novel and the 1981 Granada television adaptation which starred Jeremy Irons and Anthony Andrews have debated the nature of the relationship between the two friends neither the book, which appeared in 1945, or the TV adaptation carry any overt references to homosexual feelings."
Said screenwriter Andrew Davies: "I think it will probably upset the purists. But one thing we wanted to make clear was that Sebastian was gay and that Charles although terribly fond of him is heading in another direction sexually. Waugh had a very skilful way of skating over the sordid details so we can imagine what we like about them. This ambivalence was probably the result of his own sexual ambivalence."
Sebastian is played by Ben Whishaw, and Charles by Matthew Goode. Below, Jeremy Irons and Anthony Andrews in the PBS series which transfixed viewers in 1981.
The theatrical trailer for the new Brideshead, AFTER THE JUMP…