Ventura County Superior Court Judge Douglas Daily ruled yesterday that Brandon McInerney, the 14-year-old who shot and killed his classmate Lawrence King at school in February and was charged with first-degree murder and a hate crime, can be tried as an adult. Said Daily: "I cannot say that this is unconstitutional."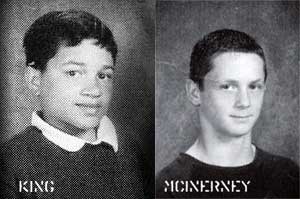 According to the Ventura County Star, "Before making his ruling, Daily heard legal arguments for about 30 minutes from McInerney's lawyer, William 'Willy' Quest, and from a prosecutor, Senior Deputy District Attorney Maeve Fox, on whether the teen can be tried in adult court rather than juvenile court. In 2000, California voters approved Proposition 21, which widened prosecutors' authority to file charges in adult court against juveniles 14 and older without having to go to a judge. Before he made his findings, the judge called for a 20-minute break to go back to his chambers to read the California Supreme Court cases cited by Quest and Fox in their legal petitions."
Quest, as well as a coalition of gay groups including Lambda Legal, the National Center for Lesbian Rights and the Transgender Law Center, the American Civil Liberties Union of Southern California, Equality California, Gay Straight Alliance Network, Los Angeles Gay and Lesbian Center, and the National Gay and Lesbian Task Force, had urged the court to try McInerney as a juvenile.
McInerney's arraignment is now scheduled for August 7.
More from the County Star on the arguments heard in court.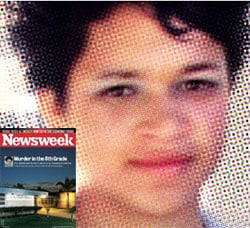 Meanwhile, folks are rightly still outraged about the Newsweek cover story on the King murder published this week.
Writes Sara Whitman in the Huffington Post: "Read the article and you'll be informed that in fact, Larry was the problem. He was always the problem. And while kids are experimenting with sexuality at younger and younger ages overall, being gay is dangerous. Heterosexual play is fine but, 'Kids may want to express who they are, but they are playing grown-up without fully knowing what that means.' What does that mean? The article is one of the poorest forms of journalism I've ever read. If it is an Opinion piece, okay, but to write 'Even as homosexuality has become more accepted, the prospect of being openly gay in middle school raises a troubling set of issues' and to state it as fact?"
You may remember a similarly horrible piece published in Time shortly after the killing which suggested that gay groups exaggerate the amount of bullying made against kids because of their sexual orientation in order to make the situation sound more dire and drum up the need for legislation.
For all our Lawrence King coverage, click HERE.
Previously
McInerney Lawyer Promises Not to 'Gay Bash' in Lawrence King Case [tr]
Arraignment of Teen who Killed Lawrence King Postponed [tr]
Attorney for Lawrence King's Killer Faults School for Shooting [tr]