Russian gay activists to picket Iranian Embassy in Moscow. Nikolai Alexeyev: "We need to continuously remind the state authorities that the death penalty must be abolished."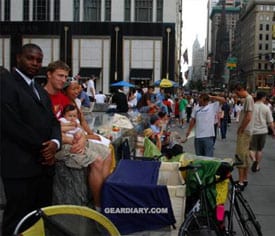 Line forms a week early for 3G iPhone…

Ryan Gosling makes an excellent case for the white T-shirt.

Larry Craig's bathroom stall to return to spotlight: "Thousands of members of the international media will have to walk past it when they land at the Minneapolis-St. Paul International Airport for the Republican National Convention in St. Paul at the end of the summer. Many will feel obligated to stop and file a story. For the party that bills itself as stronger on family values than the Democrats, it likely will prove an unwelcome distraction."

UK Study: employees who are "out" at work perform better.

Half Blood Prince: First look at new Harry Potter film.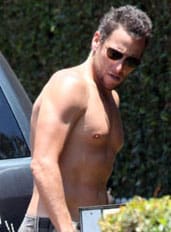 Lance Armstrong gets a beard.

Signorile on Arthur Finkelstein, the gay Republican behind Jesse Helms: "Conservative, then-closeted, Republican political operative Arthur Finkelstein helped engineer Helms' racist campaign against African-American Charlotte Mayor Harvey Gantt in 1990, as Helms was vilifying gay sexuality, blocking AIDS funding, stalling prevention and attacking queer artists. (See the ad below that was aired at the height of the campaign and which resulted in Gantt going from a a lead in the polls to defeat on Election Day). Had Jesse Helms not had the handiwork of Finkelstein, who worked for Richard Nixon, Ronald Reagan and various right-wing senators, he might have lost that race. Instead, we had another decade of his antigay grip on the Republican Party, as he blocked HIV prevention measures and thousands more died."

SALON: Transgender man delivered a baby, but failed to deliver respect.

Nicole Kidman gives birth to a Sunday on a Monday.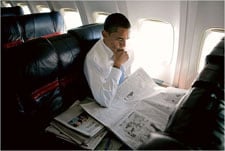 Obama campaign plane makes emergency stop due to mechanical problems.

"No Homo" the latest catchphrase to sweep NFL locker rooms: "LenDale White says to Vince Young: 'Vince, you've got great nips. No homo.' Did you catch the subtle twist there? LenDale has said something that on any other day might be considered gay, but, and this is key, he's inoculated his heterosexuality by appending, no homo at the end. No homo also works at the front of the phrase but then it's much less enjoyable because the other party has been keyed into the homosexuality of the statement that's to follow. Hence, 'No homo. Vince you've got great nips.' No dice there."

Reggae music label plans "Straight Pride Parade" in Brooklyn to protest ban of gay murder music artist Stapler.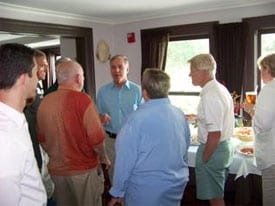 Howard Dean holds holiday fundraiser in Provincetown: "From a small podium Dean spoke of the enormous progress that has been made in terms of civil rights — for instance, the number of states that have had referendums on gay marriage — despite eight years under 'one of most oppressive presidents' the country has ever known and a Supreme Court he characterized as 'a disgrace. It's interesting,' he said. 'Sometimes you have to just sit back and look. The grassroots have changed dramatically.'"


NBC to buy The Weather Channel for $3.5 billion. Hurricane Bertha forms in the Atlantic…

Matt Damon checks into the Green Zone.

Michael Ausiello: Hit TV show planning big gay twist.

Getting away with it: Kylie Minogue breaks royal protocol as she is bestowed with the Order of the British Empire…