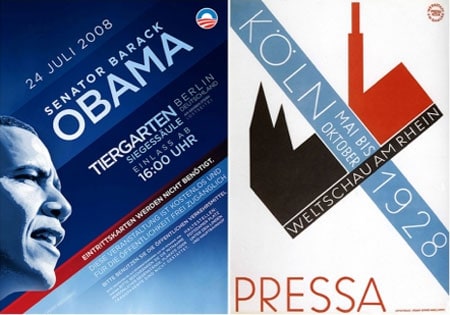 Meaningful Distractions notes (via jockohomo) that the poster the Obama campaign used to publicize his speech yesterday in Berlin pays tribute to the German Bauhaus movement:
"Predictably, once the flyers came out looking 'different' from what we're used to seeing, the Republicans started to throw around their new favorite attack word for Obama: 'arrogant.' They love using it — these days Obama can't brush his teeth in the morning without the Republicans telling us how the flavor of toothpaste he uses somehow reveals how 'breathtakingly arrogant' he is….But here's what the Republicans and even some moderate voices are missing: this campaign poster isn't evidence of a 'messiah' complex; it pays homage to a pivotal era in graphic design history: the German Bauhaus movement during the early 20th century (see above right for example)."
Of course, as I noted yesterday, John McCain uses a similar tactic. He just pays tribute to Michael Bay war movies.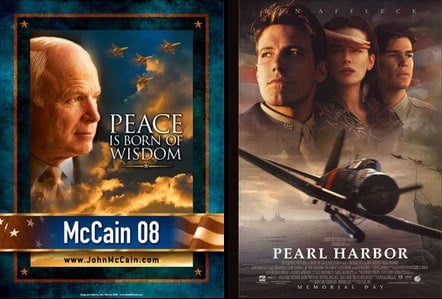 Now who was that with the Messiah complex???