House passes Lantos-Hyde AIDS bill which would also lift the HIV immigration and travel ban by a vote of 303-115. Pelosi statement.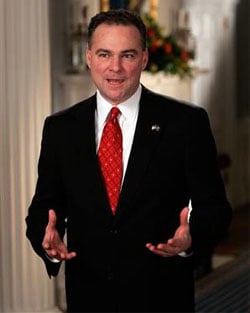 Clinton campaign-runner Terry McAuliffe recommends Virginia Governor Tim Kaine for Obama VP spot: "McAuliffe was adamant in his recommendation of Kaine as the Democratic Party's vice presidential nominee Tuesday, although he stressed to the News-Press after his speech, which included an informal half-hour question and answer period, that the ultimate choice will be Obama's very personal one. However, the fact that he proposed Kaine over his own candidate and long-time friend, Hillary Clinton, suggested that he knows the Clinton option is off the table."

A resourceful and somewhat hot (if you're into that bearish farmer type) sugar beet grower has found a first-rate way to scare off the crows.

27%: Bush approval rating hits new low.

David Beckham having a leg-off with his All-Star teammates?

Cape Town, South Africa outraged over homophobic newspaper column. Columnist: "There could be a few things [about which] I could take issue with Zimbabwean president Robert Mugabe, but his unflinching and unapologetic stance over homosexuals is definitely not among those."

Belfast Gay Pride gets approval to go ahead next weekend. Homophobic Northern Ireland MP Iris Robinson invited…

Clay Aiken blogs for the children of Somalia and Kenya.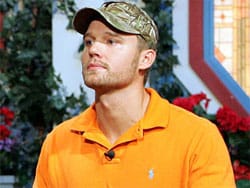 EW talks to Big Brother gay cowboy Steven Daigle. Ed: I do want to amend an earlier post. While I noted his racist comment early on in the show, I do want to say that after several episodes he proved to be a warm-hearted player, and did change at least one housemate's mind about gay people, and I wish he would have stayed.

LGBT community to be out in force at Democratic National Convention: "National Stonewall Democrats, the national gay Democratic group, expects more than 300 openly LGBT delegates, alternates, and other participants in 'the gay caucus' next month at the Democratic National Convention. The group has been scrambling for weeks to assemble the names and numbers and still hasn't identified them all. But from what data it has collected, it appears the caucus will include 305 delegates, at least 84 of whom supported Hillary Clinton during the primary, 74 of whom supported the presumptive nominee Barack Obama, and 147 of whom no one yet knows who they supported."

Kathy Griffin's longtime assistant Jessica has left the building.

Wayne Besen on Exodus International's annual confab of "ex-gays" in Asheville, North Carolina: "Exodus may smile sweetly and tell the mainstream media they love homosexuals. But, judging by the recent hate crimes in the Carolinas combined with the reactionary rhetoric of Exodus, it seems that they are literally 'loving' us to death."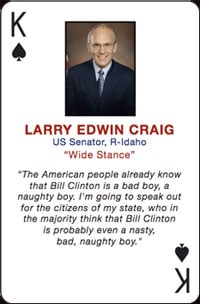 Republicans play the gay card. Via The Gist.

PlanetOut Inc. reports accumulated deficit of nearly $100 million: " The San Francisco web portal (NASDAQ: LGBT), which is aimed at the lesbian, gay and transgendered market, reported an accumulated deficit of $99.8 million as of March 31. For that quarter, PlanetOut lost $10.4 million on sales of $4.8 million. PlanetOut was incorporated in Delaware in December 2000. It runs web sites gay.com and planetout.com."

Penn Badgley takes his brooding looks to GQ.

Report warns of AIDS crisis in the South.

National Stonewall Democrats announce endorsement of Barack Obama: "[Spokesman John] Marble said the group offered its endorsement 'with accountability as well' and said the organization will continue to press Obama on gay issues during the campaign. While gay Democrats rally behind their party's presidential candidate, the National Log Cabin Republicans have yet to make a decision on whether or not to endorse Republican presidential candidate John McCain in his bid for the White House."

Maryland judge: Gender identity law can be rolled back by voters…