While in character as gay Austrian TV reporter Bruno, Sacha Baron Cohen fooled former Israeli intelligence agent Yossi Alpher into comparing the merits of Palestinian terrorist group Hamas and the lemony chickpea spread Hummus. Alpher described the "basic" interview questions, which he answered with a Palestinian academic, to the New York Jewish weekly, The Forward: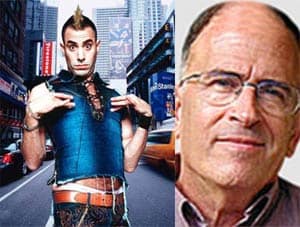 "And they were, indeed, basic, relating to our expectations for the Israeli-Palestinian peace process. Then one of us mentioned Hamas, and the exchange that ensued went something like this: 'Vait, vait. Vat's zee connection between a political movement and food. Vy hummus?' We exchanged astonished glances. 'Hamas,' we explained, 'is a Palestinian Islamist political movement. Hummus is a food.' … 'Ya, but vy hummus? Yesterday I had to throw away my pita bread because it vas dripping hummus. Unt it's too high in carbohydrates.' The Hamas-hummus confusion went on for several minutes. Then, the interviewer declared: 'Your conflict is not so bad. Jennifer-Angelina is worse.' We probed our limited memory of Hollywood scandals: Was he comparing the Israeli-Palestinian conflict to some sort of tension between Brad Pitt's former and current wives? What was going on here? Should we pull off our microphones, get up and leave? We exchanged worried glances. 'Could we take a break?' one of us asked meekly. The request was ignored. And so it went. The cameras kept rolling, the cameramen never cracking a smile. 'Vy don't you Jews and Arabs settle the conflict with a time share on the land? Ven vill you Jews return the pyramids? Vy can't Jews and Hindus get along?' Jews and Hindus? We played it straight and square. Nay, we simply are straight and square. We smiled at the idiotic questions and answered them patiently. We remonstrated that this was no way to help the youth of the world understand the depth and tragedy of our conflict."
Bruno's escapades at the Wichita Airport were documented earlier this year along with a fake interview with Ben Affleck. He also apparently attempted to interview California governor Arnold Schwarzenegger but was given the brush-off.
Previously
Sacha Baron Cohen's Bruno Brushed Off by Schwarzenegger [tr]
Sacha Baron Cohen's Bruno Screws Kansas Airport and Ben Affleck [tr]