Italian man wins $157,700 in damages in driving test lawsuit: "When 26 year-old Danilo Giuffrida told doctors he was gay at his medical examination for military service, they passed the information to the transport ministry, who told him he must repeat his driving test or have his license withdrawn due to his 'sexual identity disturbance.' Giuffrida agreed to re-take his test, passed it for a second time, but the ministry renewed his license for just one year rather than the usual 10 years because of his homosexuality."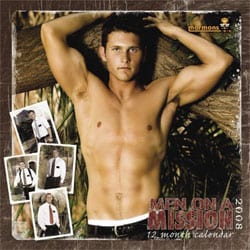 Man who created 'Men on a Mission' Mormon beefcake calendar faces excommunication from the Church of Latter Day Saints by council of elders…

Mayor of Nice, France holds press conference to show off birth certificates of the latest members of the Brangelina Bunch, Knox and Vivienne.

Carry on: The new season of Project Runway has eight out gay men.

Report: Retailers shunning Victoria Beckham's men's jeans line. "The delay comes just months after the denim range was relegated to the bargain basement bins of several US boutiques while many announced they would no longer carry it because of poor sales."

Gay Atlanta upholstery/design store owners targeted by vandals: "Beginning late last month, someone has returned to the couple's upholstery and design business in Buckhead over and over, using spray paint or permanent markers to write anti-gay messages on their windows, according to an Atlanta police report."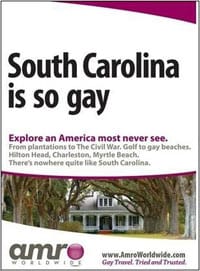 South Carolina has pulled a gay tourism campaign created by an overseas contractor unaware of the state government's homophobia. Agency investigating ways to discipline employees who signed off on it. Greenville County GOP State Sen. David Thomas: "From my own perspective, it's bad for the state to make such statements about the state, to assert that South Carolina has gay beaches. . "I think that sends a cross message when we're saying, 'Come to South Carolina for its family-friendly beaches.'"

The L.A. Times takes a look at the L.A. Gay and Lesbian Center's HIV/AIDS web soap meant to educate young men about prevention.

Apple claims sales of one million iPhone 3Gs in first weekend, 10 million downloads from App Store.

Australia: Pope to apologize for sex abuse by priests.

Rafael Nadal: buff on the beach.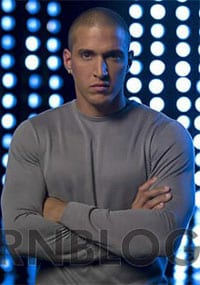 HGTV Design Star host Mikey Verdugo is an out gay police officer with a gay bondage porn past. Here are the photos (very NSFW)…

Prince Harry following in the footsteps of Diana…

120,000 take to the streets for Gay Pride in Vienna: " Thirty-degree heat and sunny weather ensured record attendance for the 13th edition of the march, which like almost all other events this year in Austria had a football theme, even two weeks after the end of Euro 2008. 'No more offsides!' organisers urged, calling for legalised gay marriage and an end to discrimination, although daring high heels, rather than soccer boots, were the choice of footwear on the Ring boulevard where the Fan Mile recently stood."

Ewan McGregor out of Africa.

The world's oldest known blogger, 108-year-old Olive Riley, died on Saturday: "An Australian woman described as the world's oldest Internet blogger has died at the age of 108 after posting a final message about singing "a happy song" in her nursing home. Olive Riley 'passed away peacefully on July 12 and will be mourned by thousands of Internet friends and hundreds of descendants and other relatives,' a note on her website said. Riley had posted more than 70 entries on her blog from Woy Woy on the east coast since February last year, sharing her thoughts on modern life and her experiences living through the entire 20th century." Watch a video of Riley here.