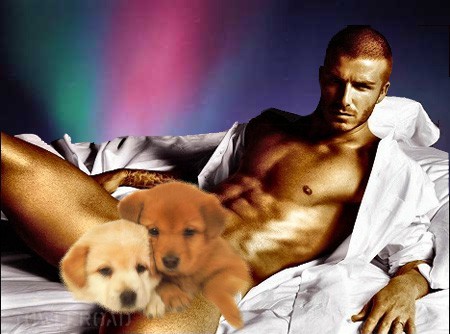 Librettist Mark Archer is pitching what may be the cheesiest musical of all time to producers in London's West End — the story of 33 years of David Beckham's life. Hopefully it will include a song called lavender, puppies, and rainbows, feature a casting session by Giorgio Armani, a dance number with the Spice Girls, and star these two as the villains. Every story needs a good villain.
"With football and celebrity now firmly established as new secular Western religions, The Theatre of Dreams is set within a cheering football stadium – the modern-day church. The music is powerful, gospel-like rock to establish clearly football and Manchester United as a religion."
"The musical begins with such songs as The Promised Land, detailing Ferguson's desire to revive United and Beckham's emergence. After eulogising about the influence of Eric Cantona – "incroyable, catalyseur, legende" – the actor playing Beckham sings about England life in the Nineties:
"Talk about football coming home,
And then one night in Rome,
We were strong, we had grown,
And now I see Ince ready for war,
Gazza good as before,
Shearer certain to score,
And Psycho screaming.
"On meeting Posh, Beckham sings:
A change has come around,
As I worship this ground,
With you in my life,
We're turning the world upside down.
Of course, the next line should be, 'how come you always frown?'