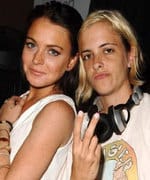 Michael Lohan says his Christian background would prevent him from giving his daughter Lindsay to another woman in marriage:
"I haven't heard anything (about an upcoming wedding) from Lindsay, but if she was marrying Sam, I don't think she'd ask me to walk her down the aisle. She knows about my (Christian) faith … she just wouldn't ask. I want her to be happy and healthy and stay on the right path. If I discuss (her relationship), I say that I want her to be happy."
Over the weekend, rumors spread that a marriage between Lohan and Samantha Ronson was possibly in the offing.