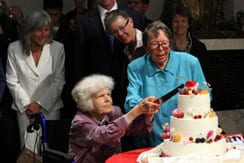 Lesbian rights pioneer Del Martin died Wednesday. She was 87. A longtime activist, you may remember her last public political act, on June 16, 2008, was to marry Phyllis Lyon, her partner of 55 years. They were the first couple to wed in San Francisco after the California Supreme Court recognized that marriage for same-sex couples is a fundamental right in a case brought by plaintiffs including Martin and Lyon. WATCH Towleroad's exclusive interview with Gavin Newsom on the passing of Del Martin here.

New York City — it's definitely not for everyone.

Making It Legal: Same-sex couples in legally bound relationships appear to stay in their relationships longer than those who are not legally recognized, according to a new study published in Developmental Psychology. The study is a five-year project that began in 2002, the year same-sex civil unions were legalized in Vermont.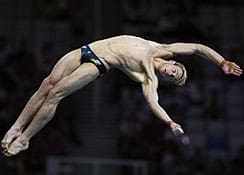 Back-flip: Gary Zenkel, president, NBC Olympics, issues an apology concerning his network's coverage of Matthew Mitcham's gold medal upset during the diving competition at the Beijing Olympics.

Newsweek: No one wants to talk about gays in Iraq, much less who is killing them.

Over the Borderline: The New York Times editorial page calls out Madonna on her "sophomoric insults."

Some Hallmark stores are refusing to sell the company's own same-sex wedding cards.

Are the Dems being forced to play up Hillary Clinton's barrier-breaking near-miss, while sweeping Barack Obama's arguably bigger breakthrough?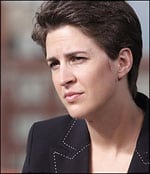 The Washington Post profiles openly gay journalist Rachel Maddow, MSNBC's newest primetime host.

A man accused of beating to death a transgender woman faces a preliminary hearing in September, where the prosecution's case against him will be mapped out.

Chuck Todd smells political motivation behind Charlie Crist's engagement — to a woman. Then again, who doesn't?

Is Denver big enough for Sean Penn and Obama Girl?

George Clooney and Brad Pitt bring The Ridiculously Hot Show to Venice to promote their new film, "Burn After Reading."

And you thought America was bad, a new Dutch reality show called "Prisoner of Love" sets women up on blind dates with newly released criminals and makes them guess what crime they were jailed for. Can't wait for the rape episode during sweeps week.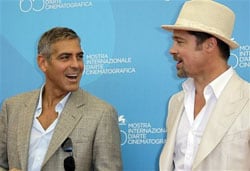 One Arrest at a Time: Mackenzie Phillips was busted at LAX for possession of heroin and cocaine.

Matthew McConaughey's mom is so "Body of Evidence" Madonna!

Holy Gay Icons — Cher to play Catwoman?

Hot Daddy Alert: Ben Affleck sighting — the beard is totally working for him!

Attention all Chelsea Boys: steroids can really f**k up your (hot) body.

Footballer Stevie Gerrard's bulge never disappoints. The rear ain't bad either.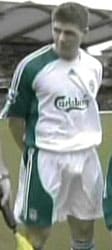 Style Council: The 50 New Yorkers who make the fashion industry tick.

Paul Reubens, aka Pee-Wee Herman, turns 56 today.

RIP: Jerry Ford, who with his wife, Eileen, established one of the most recognizable modeling agencies in the world, turning a profession regarded as practically a hobby in the 1940s into one dominated by well-paid supermodels in the 1980s, died on Sunday in Morristown, N.J.. He was 83 and lived in Oldwick, N.J.

RIP: Dave Freeman, co-author of "100 Things to Do Before You Die," a travel guide and ode to odd adventures that inspired readers and imitators, died on Aug. 17 after a fall at his home in the Venice section of Los Angeles. He was 47.