Two Filipino workers were arrested in Riyadh for "suspicion of engaging in homosexual prostitution" on Saturday: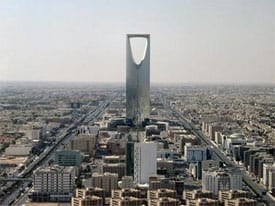 "Roussel R. Reyes, vice consul and third secretary who heads the Assistance to Nationals' Section at the local Philippine Embassy in Riyadh, confirmed the report of the arrests on the alcohol charge, but not the charges involving homosexuality. 'A consular team of the Philippine Embassy will proceed on an assistance mission and visit the local prisons on Aug. 12 to find out the conditions of our workers, and probably we will know about the accusation of sodomy by that time.' The two men suspected of homosexual acts were in the Kingdom illegally and were making a living selling alcohol and engaging in gay prostitution, police said. Members of the Kingdom's religious police are investigating contacts found on the men's mobile phones."
Saudi Arabia appears to be stepping up arrests for homosexuality, which is illegal in the country. In late July, 55 were arrested at a "gay party" at a rest house near Qatif and 21 were arrested in a similar incident in the same area in June.