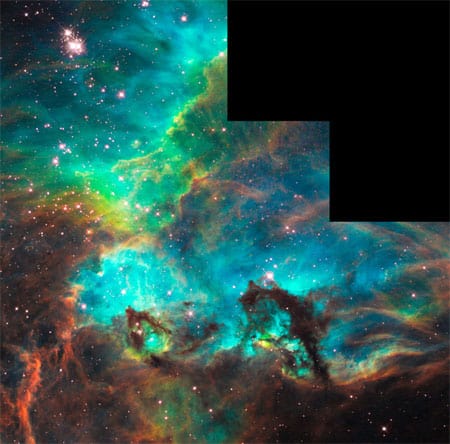 This week NASA released an image to commemorate the Hubble Space Telescope's 100,000 orbit by aiming it at a portion of the Tarantula nebula where stars are created, about 170,000 light years away:
According to NASA: "The image reveals dramatic ridges and valleys of dust, serpent-head 'pillars of creation,' and gaseous filaments glowing fiercely under torrential ultraviolet radiation. The region is on the edge of a dark molecular cloud that is an incubator for the birth of new stars. The high-energy radiation blazing out from clusters of hot young stars is sculpting the wall of the nebula by slowly eroding it away. Another young cluster may be hidden beneath a circle of brilliant blue gas. In this approximately 100-light-year-wide fantasy-like landscape, dark towers of dust rise above a glowing wall of gases on the surface of the molecular cloud. The seahorse-shaped pillar at lower, right is approximately 20 light-years long, roughly four times the distance between our sun and the nearest star, Alpha Centauri. The region is in the Large Magellanic Cloud, a satellite of our Milky Way galaxy. It is a fascinating laboratory for observing star-formation regions and their evolution. Dwarf galaxies like the Large Magellanic Cloud are considered to be the primitive building blocks of larger galaxies."
Meanwhile, in our own solar system, the Cassini space probe continues its fly-by of Saturn, and came very close earlier this week to the planet's moon Enceladus, shooting the image you see below of the moon's surface from a distance of approximately 2,446 kilometers (1,396 miles) above the surface. It was taken on Monday.