A teen who was a member of the Family Swans (a subset of the Bloods gang) was killed by fellow gang members after they discovered he was gay, according to police in Baltimore: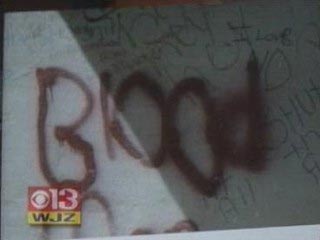 "A neighbor told police that Parrish left his parents' home with another young man and walked toward the woods. About a minute later, the witness and other neighbors heard someone yelling and pleading, 'Stop! Why are you doing this to me? I didn't do anything!' according to court documents…On the day before Parrish's death, several members of the gang met at his home, according to charging documents. There, Hollis and Flythe discussed finding what they believed to be 'gay' text messages on Parrish's cell phone. Angered by the messages and a photograph they found, they worried that their Bloods group would appear weak to others if word got out that they had a gay member, according to court records. 'As a result, they decided that Steven Parrish 'had to go," police wrote in charging documents. 'There was no date or time discussed for the killing, but it was made very clear to all those present that Parrish was going to be killed.' Flythe later told his fellow gang members that he and Hollis confronted Parrish, who did not deny that the messages were 'gay' in nature, according to court records. Flythe also told his associates that they stabbed and hit the victim before stomping on his neck, according to charging documents. A red bandanna was placed over Parrish's face and he was left in the woods."
Parrish was found to have bruises, over 50 superficial knife wounds, and a deep stab wound to the chest. Steven Hollis, 18, of Randallstown and Juan Flythe, 17, of West Baltimore have been charged with first degree murder and are being held without bail.