A Vancouver man struck nine people in the head with a hammer on Davie Street in the center of the city's gay neighborhood late Sunday, which also happened to be the city's Gay Pride day, but authorities are not sure if the attacker's motivation was homophobic or unrelated: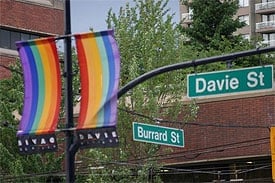 "Khalid Alzghoul was charged Monday with 17 offences, including nine counts of assault with a weapon. He was remanded in custody and will likely make another appearance in court today. Vancouver police spokeswoman Const. Jana McGuinness said the incident began around 10:20 p.m. when a man left the Tutti convenience store on Davie without paying for his items. After leaving the store, the man headed to the Majestic Restaurant and Lounge on Davie, where he struck a man in the head with a ball-peen hammer, knocking him unconscious. He then hit a doorman and three patrons with the hammer, before hitting one more person as he left the restaurant. Police allege the man then went to Characters Restaurant, just down the street, where he hit two other women in the head. A man who was with the two women chased the suspect and tackled him to the ground. He was then also struck in the head with the hammer, said McGuinness."
Alzghoul was apparently ranting while making the attacks. Police, who say the attacker has a history of mental illness, are investigating.