Back in October, I posted about 20-year-old Matt Leveson, a Sydney man who had vanished after a night out at a gay nightclub and was thought to be the victim of foul play.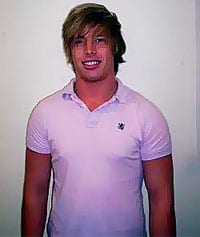 Unfortunately, that seems to be the case, though Leveson's body has not yet been found: "Michael Peter Atkins, 45, was arrested by Miranda police officers at his apartment in Tonkin Street, Cronulla, about 7am today. It is understood Atkins was the 'partner' referred to in media reports last year as the person last seen with Mr Leveson as he left ARQ nightclub in Surry Hills in the early hours of Sunday, September 23."
Atkins has been charged with Leveson's murder: "It is understood the pair had been in a relationship and had been living together at Atkins's apartment for several months before Mr Leveson's disappearance."
Miranda local area commander Superintendent Mark Hiron said the investigation would continue until Leveson's body is found.
Leveson's mother recently left a message on Facebook, on which two groups have been set up in Leveson's name: "My darling, beautiful boy, it is 10 months today since that HEARTLESS, SOULESS MONSTER took you away from your family and friends. My resolve has not weakened I will not stop looking for you and bring that MONSTER to justice. It is only a matter of time – even if it takes me my lifetime I WILL GET JUSTICE FOR YOU!!!! Every night I look into the sky and I see your star shining brightly. You were a bright star in our lives and will continue to be so forever. The monster may have taken you from me but it can't take my memories and my love for you away. You will never be forgotten – you are forever in our hearts. They say time heals – its a lie – it does not. It just gets harder and harder not having you around. Matty I love you now, always and forever xxxxoooo."
Matthew murder mystery: lover charged [sydney morning herald]